With October being Breast Cancer Awareness Month, Caribbean National Weekly continues its look at survivors and ways to detect the disease. Trinidadian breast cancer survivor Hazel Bethel reveals her story.
By Tanya N. Ragbeer
Born in the city of Couva, Trinidad, Hazel Bethel migrated to Florida in 1970 at age 21. The retired secretary was employed with Dade County Schools for 30 years.
"I grew up in Couva, we never used to eat canned peas or frozen chicken, we know to go in the backyard and kill the chicken and cook it," the breast cancer survivor said.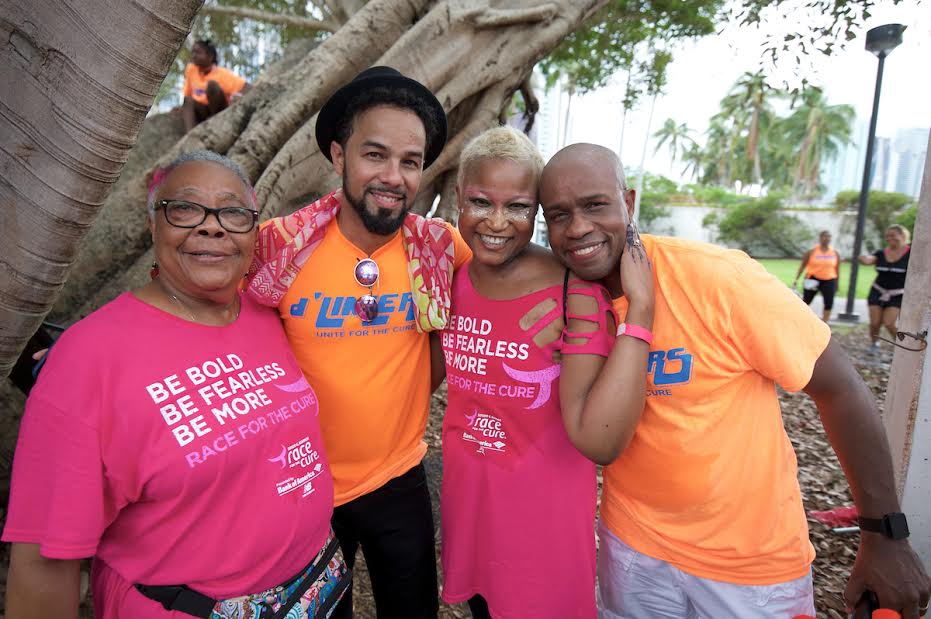 Unique situation
Bethel's health situation is unique. "I have no background of anybody in the family with breast cancer, and I showed up with breast cancer," she lamented. "I asked the oncologist and he said there are certain cells that we all have and some cells in some people get radical and some don't."
November will be 22 years since Bethel was diagnosed, She began treatment in December, 1995. "It was a shock," she recalls.
People from the Caribbean are known to react despondently when cancer is discovered. "Telling my family, it was like telling them 'ok, I am dead'," she said.
Caribbean people are also known to refer to the disease not by name, but as 'the Big C,' in whispers of fear and dread.
Really, really rough
"It was really, really rough having to go through this ordeal pretty much by myself. I would get the call, 'How you doing,' but I don't think anybody understood the strain that it was taking. My kids, Carla (Hill) was in college, and her brother was just starting high school. I had to try to work it out so that I don't shock them," the breast cancer survivor related.
"I told them that I was going to have surgery on my breast and depending on what they see, they would probably have to remove the breast, (but) I already knew that I was removing it. So, I had the surgery, chemo and radiation because the cancer was at stage 3. It was very aggressive, so they had to treat it very aggressively."
Bethel discovered a lump while putting on her bra. "I felt a bump and when I touched the bump, I would burp, I said, 'How did gas get under my breast'?" she recalled.
Her doctor knew immediately that it was not gas. He referred her to an oncologist. She had one lump in her right breast and they removed that breast. "I don't know to this day how I went to work. When I had the surgery, they had to remove lymph nodes and it affects your arms, your movement, so I had to stay home for about six weeks and after that, I went to work. I suffered from terrible vertigo.
Sometimes, I would sit at my desk and I would hold on because the whole world would be spinning. That was the after-effects of the chemo. I was one of those guinea pigs," Bethel continued. "They had started using the anti-
nausea drugs and (the doctor) asked me if I wanted to try it. Of course, I wanted to, who wants to be sick?"
Stem cell transplant
Then they did a stem cell transplant on her. The last chemo session was so strong she could not drive herself home after treatment as she was used to doing.
With the stem cell transplant procedure, she went through a process lasting four to five hours, where the white cells were "harvested" through "something like a washing machine."
She returned one day later and they inserted two tubes in her neck. "They extracted the white cells (with one) and the other tube had the blood go back into me,"  she said.
"Following that, the extracted cells were frozen, and I had to go back into the hospital for them to re-infuse the frozen white cells. They sort of made me over. Baptist Hospital doesn't do that procedure anymore."
Reconstruction
Not wanting to do a belly tuck to transfer fat to her chest, Bethel began reconstruction utilizing a 'balloon' procedure but found it painful. "Why am I going through this pain?" she thought, and had it removed at the same time the doctors removed the port for chemo treatments. "I wear a prosthesis now," she said.
Hazel Bethel has been cancer-free ever since. However, some years later, her daughter Carla was diagnosed, and "I had to live this all over again. I wanted to die."
Mother and daughter
With no prior history of cancer in their family, it was a shock to discover that Bethel and her daughter had the disease.
Carla already had a kidney transplant by then. Hazel prayed continuously. "God, let this happen to me so that I can be an example for her, of doing what you have to do to live."
It was double worry because by then Carla was married to attorney Marlon Hill.  I'd worry about him, worry about her. It wasn't easy."
Bethel is resilient. "When you have cancer, there is something that wells up in you that says, 'This is not going to take me down.' You get that strength."
Today, the breast cancer survivor is "living, enjoying life, and thanking God every day." Every year, she joins Carla and Marlon in the Team DLimers group for the Komen Race for the Cure. "Every year, I look at her, and I know there's a God," Bethel said.