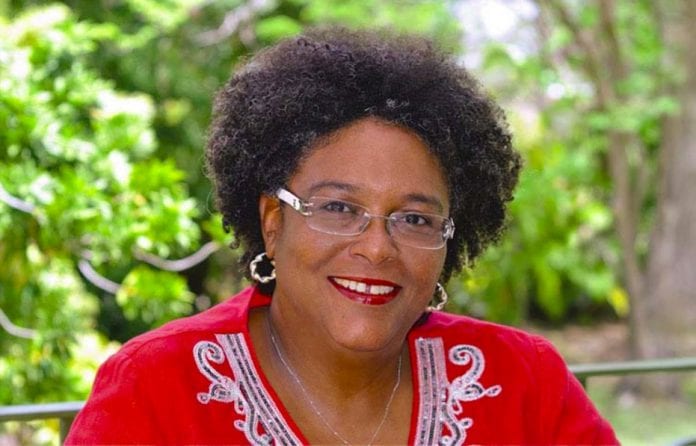 On Thursday, Barbadians elected Mia Mottley as the first-ever woman to head a government in the country in an historic victory for the Barbados Labor Party (BLP).
The preliminary results show that the opposition party is on track to sweep all 30 seats in the Parliament. As te results became evident, Mottley thanked Barbadians for doing "what is best for Barbados."
The 52-year-old BLP leader thanked outgoing Prime Minister Stuart "for his service to Barbados" but reminded the nation that "the people have spoken. The victory is not mine, not the Barbados Labor Party, this victory is the people of Barbados victory."
She said that she wanted the victory to be recognized also as te result of "a people's campaign" and welcomed the new legislators who had embarked on "this special journey. Leading this team has been the privilege of my life, it is now for us to move forward because the electioneering has stopped," she said, adding that she wanted to thank all those who had offered themselves and had not successful.
"I urge them to continue in the spirit of service and…in building this country," she said, adding that she would begin the task of rebuilding the country" immediately.
The election was fought against the backdrop of a worsening economic situation in Barbados. Mottley said in order to move forward her administration will release the latest International Monetary Fund (IMF) report on Friday so that Barbadians will know what is expected going forward.
"We have also committed to releasing the noose of taxes around our necks…if this economy is to grow again, then… that will be business number one for us."
Mottley said her Cabinet will be appointed by Monday, and reminded the country that "all ideas must contend." She said even before the government has a right to take a decision "all ideas must contend and we have already committed in our manifesto to putting in place a framework for people's initiatives that come from you and  not started with us.
"We have committed to referenda because we believe there are certain fundamental issues that we must consult with you on. Some will be binding, and some will be advisory."
But she pledged "there will be no gloating. There is no way there will be a mistrust of the absolute mandate that you have given to the Barbados Labor Party."
Earlier, Prime Minister Freundel Stuart, 66,  accepted "full responsibility" for the defeat of his Democratic Labor Party in the general election. He also announced he is leaving electoral politics in Barbados.
Stuart, who entered elective politics in 1994, said Thursday's general election would have been his last regardless of the results and that he would assist the party as it moves to name a replacement for him.
Speaking at the party's headquarters, Stuart said his administration had to govern in a very challenging environment in the 21st century , adding "we did the best we could according to our likeness and according to our judgement  over the very difficult and challenging decade in which we had to administer the affairs of Barbados".
Hundreds of BLP supporters took to the streets during the early hours of Friday to celebrate the victory. Meanwhile, Mottley urged the private sector to close down their businesses at midday on Friday.