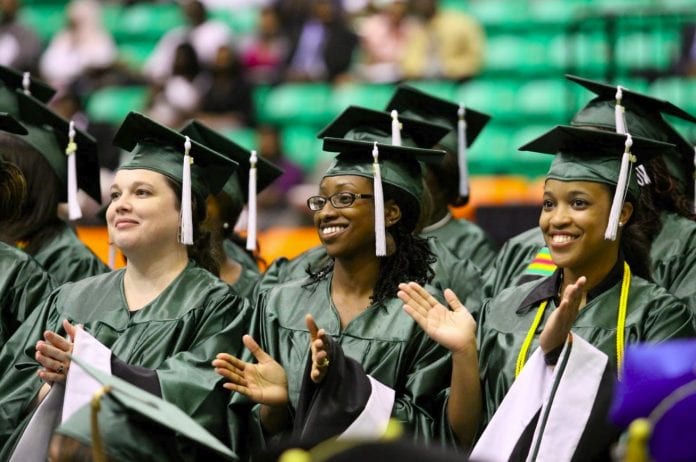 Traditionally, May is graduation month across the US with students graduating from various colleges. Most of these new graduates will be embarking on their chosen careers related to their new academic qualifications.
Based on recent reports, unemployment fell to 3.9 percent nationally and in Florida in April, the lowest percentage since 2000. "Therefore, on the surface, the job market look encouraging for these graduates.
Salaries have lagged
However, while there seems to be plenty jobs, especially in the healthcare and hospitality industries, below the surface salaries have lagged behind increase in job offers.
Nationwide, salaries increased by 2.9 percent over the last year, and in Florida 2.7 percent. These low salaries are turning away college graduates, most who are burdened with large student loan debt from South Florida's job market.
While several South Florida employers are prepared to employ new college graduates, there is evidence some graduates are not too keen on working in the region.
Accepting jobs outside South Florida
There has been regret expressed by some parents, including parents in the Caribbean American community, that sons and daughters, especially those who graduated from colleges in the New York-Tri-State area, and Washington D.C., accepting jobs in these cities rather than returning to South Florida.
Several Caribbean-American students who graduated outside of South Florida have indicated to CNW they are seeking jobs outside the region, as they found comparatively better job opportunities.
Also, Job placement counselors at some South Florida colleges stated several graduates have stated their willingness to work outside the region, if appropriate job opportunities arise.
More attractive incentives
The problem isn't jobs are unavailable in South Florida, but rather some graduates believe cities outside South Florida provide more attractive incentives for their new careers.
These incentives include not only better salaries, but  more affordable housing, and easier commute through public transportation.
Most graduates are entering the workforce with a huge financial liability. It's estimated the average student loan debt of Florida graduates with bachelor's degree is $24,050, and up to $34,000 for students with advanced degrees. Although the Obama administration introduced incentives to make student loan repayment easier, it's still a burden. Most graduates need jobs with salaries that enable them to adequately repay the loan, with sufficient disposable income remaining to meet their other expenses..
Compared to salaries paid in other metropolitan regions, salaries in South Florida are low, averaging approximately  $45,000 to $47,500 annually. Accordingly, some graduates are attracted by higher salaries paid in places like New York City, although they are likely to pay higher  taxes.
South Florida accommodation costs too high
Another reason why some graduates decided to leave South Florida is the cost of accommodation. While some graduates return to live in the family home, more seek want to set up their own independent homestead. However, in recent years cost of rent has increased significantly. The average cost of a one-bedroom apartment in the suburbs of Miami-Dade County is $1,350, and $1,200 in Broward County. This is a high rate for someone just starting their career.
On the other hand, rental agents in the Orlando metropolitan area have indicated they have waiting lists up to six months from young college graduates from South Florida for apartments in the area.  Several new businesses have either expanded or opened in the Orlando area, where a one-bedroom apartment averages $800 monthly.
South Florida's difficult commute
Another concern some graduates expressed in working in South Florida is the difficult commute.  For those living in the Southwest Miami, and West Broward suburbs, the commute to jobs in Miami or Fort Lauderdale can average 60 minutes each way, and up to two hours if they encounter traffic congestions. In addition to student loan repayment, high rent, a reliable, gas-efficient vehicle is a necessity for graduates working in South Florida since public transportation is limited.
In comparison, the relative ease of public transportation in Washington D.C. and New York City enhances the attraction to accept job offers in those cities.
Employers need to entice graduates to stay
These are formidable challenges for South Florida employers to compete with. These employers aren't expected to remedy problems of rising rent, and the difficult commute. Nonetheless, they can entice graduates to remain and work in South Florida by offering salaries and related benefits that potentially offset the challenges these graduate face, and deter a possible serious brain drain from the region.
State government should act too
And, with employment rising, the state government should now focus on increasing the absurd minimum wage of $8.25 per hour to a living wage of, say, $11. With most businesses experiencing significant savings from the Trump administration's tax break, they are able to pay higher minimum wages. This would form the foundation for boosting higher wages generally across Florida's job market.