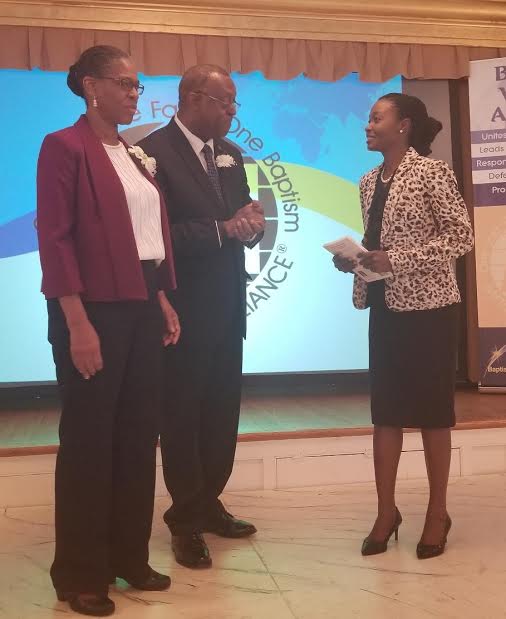 The first Jamaican ever to lead the Baptist World Alliance (BWA) is being hailed as "morally, ethically and spiritually as strong as the fabled Rock of Gibraltar."
That was part of the praise heaped upon the Rev. Dr. Neville Callam and cited in a framed copy of a resolution delivered to him at a special luncheon held in his honor in Arlington, Virginia, on October 21. Callam, who retires in December after 10 years as BWA general secretary, was also called a "saint, friend, leader, colleague" who is "moral, compassionate, inclusive."
Appointed in 2007
Appointed in 2007 as general secretary and CEO, Rev. Dr. Callam is the first black person – and the first individual neither American nor European – at the helm of the fellowship of 238 conventions and unions in 124 countries and territories comprising 40 million members in 177,000 churches. The Baptist World Alliance began in London, England, in 1905.
Described by the resolution as an "intellectual giant of the faith but a humble servant," he was lauded for being "resolute in his convictions of the efficacy of the life in Christ" and for being a "man of faith who lives, perceives, thinks and decides theologically."
Born in Gibraltar, St. Ann
Callam, who hails from the small town of Gibraltar in St. Ann, was commended for shepherding the global organization safely through the Great Recession, a period of global economic decline that emerged in 2008 and continued for several years.
Accomplishments
Despite periods of economic uncertainty, under his leadership the BWA raised more than US$26 million. He implemented a comprehensive Donor Recognition Program and the 400 Legacy Gift program.
At the same time, the BWA undertook bold initiatives. A new Division on Freedom and Justice was launched after years of discussion and debate. This division was later merged with another to form the Division on Mission, Evangelism and Justice. Several commissions were formed, including those on Interfaith Relations, Racial and Gender Justice, Social and Economic Justice, Peace and Reconciliation, Religious Liberty, Human Rights Advocacy and Creation Care.
In emphasizing the importance of evangelism, Callam secured funding, capitalized at US$250,000, for an evangelism award to be given out every five years.
Administratively, the Jamaican spent much of his decade of service streamlining the administration and operational organs of the BWA.
Unity of the church and Christians
The luncheon guests heard how "the unity of the church and of all Christians" was particularly close to Callam's heart. He has spent much time and effort nurturing the cultivation of a corporate worship life and practice among Baptists. In fulfillment of these dreams, he led a collaborative effort that resulted in the publication of the Covenant on Intra-Baptist Relationships.
Baptist World Alliance membership grew over the past 10 years, with 24 new member organizations, now numbering 238. New countries and territories such as South Sudan, Chad, Grenada, Turks and Caicos Islands and Vietnam were added to the BWA fold.
The Callam Unity Fund was established to continue the work of Christian cooperation and collaboration.
Callam came to the general secretary's office after serving as a BWA vice president. He had wide ecclesial experience, having held every major position in the Jamaica Baptist Union, including serving twice as president, acting as general secretary, and treasurer.
Leader in Jamaica's religious community
He was a leader in Jamaica's religious community, primarily through the Jamaica Council of Churches, and a pioneer in religious and public broadcasting on the island. He was founding chair and general manager of TBC FM, The Breath of Change; founding board member of the National Religious Media Commission, operators of Love FM; and founding chair of the Public Broadcasting Corporation of Jamaica.
Among those present were Baptist World Alliance President Paul Msiza, General Secretary Emeritus Denton Lotz, and Elijah Brown, who succeeds Callam as BWA general secretary in January 2018.
First Secretary at the Embassy of Jamaica in Washington, DC,  Ms.  Saffia Bloomfield, represented Jamaica's Ambassador to the United States, Her Excellency Audrey Marks.  Rev. Mr. Callam was previously honored at events held in Bangkok, Thailand; Nassau, Bahamas; and Foz do Iguaçu, Brazil.
For more from the Embassy of Jamaica, click the link: Jamaican Embassy in Washington Monitoring Flood Disaster in Houston Texas