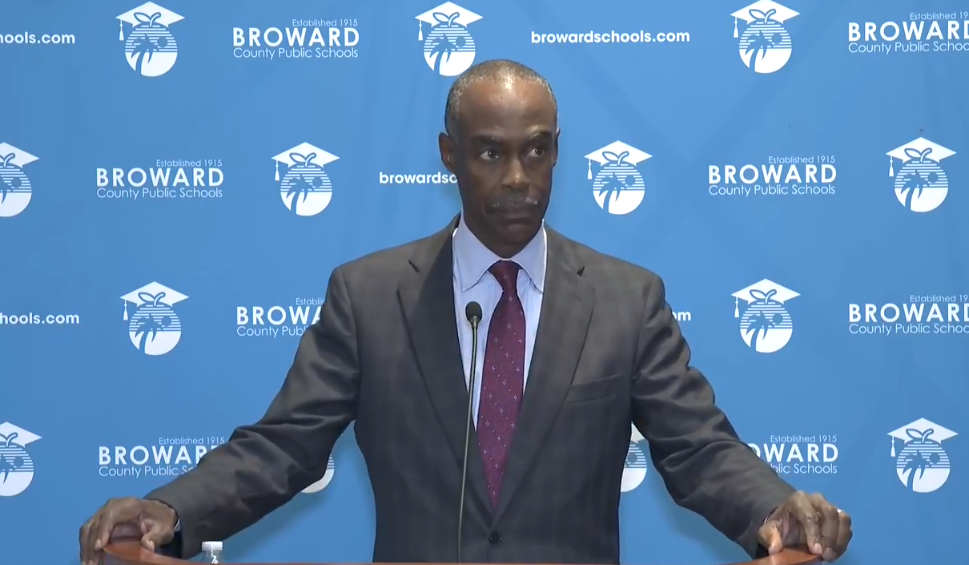 A host of Black leaders across the tri-county area say they are deeply distressed by the allegations of perjury that led to the subsequent arrest of Superintendent Robert Runcie.
The Jamaica-born Superintendent was arrested last Wednesday on a charge of perjury. He has since been released. The South Florida Prosperity Alliance issued a statement, saying they believe his arrest is unjustified, politically motivated, does not benefit Broward County students.
"A Harvard graduate, family man, and leader of the sixth-largest school district in the nation, Superintendent Runcie has always focused on closing achievement gaps and fostering safe and supportive environments for all students.
Under his tenure, Superintendent Runcie created the District's first military academy, expanded partnerships, contributed to successfully improving graduation rates and even paved the way for Broward Schools to become the first in the nation to receive the "Cambridge District of the Year" coveted distinction," the statement reads.
They continued, saying, "Given Superintendent Runcie's proven track record, accomplishments and an upstanding character, a cross-section of leaders throughout South Florida join together to not only support him, but believe he ought to be treated in a more respectable and dignified manner.
Without the evidence being presented to reveal the extent of what transpired, leaders believe such scrutiny is unjustified, politically motivated, does not benefit the 261,000 students the District serves and could interfere with its overall operations.
In waiting for the judicial process and swift investigation to take their course, we all will be monitoring this very closely. Along each step of the process, we expect and demand fairness, transparency and justice. Furthermore, if Superintendent Runcie is exonerated, we support full reinstatement and his name cleared of the alleged wrongdoing.
All residents of Broward County and beyond are urged to join us in monitoring this situation to not only make sure it is a fair process, but to ensure that the proceedings don't revert to a darker time in Florida's history.
Read the full indictment here: https://images.miaminewtimes.com/media/pdf/robert_runcie_indictment.pdf
This statement is fully supported by the following local leaders throughout South Florida, civic associations, business groups and many others:
Marsha Ellison
Daniella Pierre
Dwight Bullard
William R. Perry III
G. Eric Knowles
Brian C. Johnson
Stephen Hunter Johnson, Esq.
Dr. Graylyn Swilley Woods
Cornell Crews, Jr.

 

Pete Peterson

Anthony Blackman

 

Marlon Hill

Ronald E. Frazier

 

Marlen Bastien

Dr. Tameka Hobbs

 

Dewey Knight III

Dr. Delvena Thomas

 

Gepsie Metellus

Carole Ann Taylor

 

Robert L. Tyler

Tony C. Lesesne

 

Suzan McDowell

 

 

Barron Channer
Ann Marie Sorrell
Newton B. Sanon