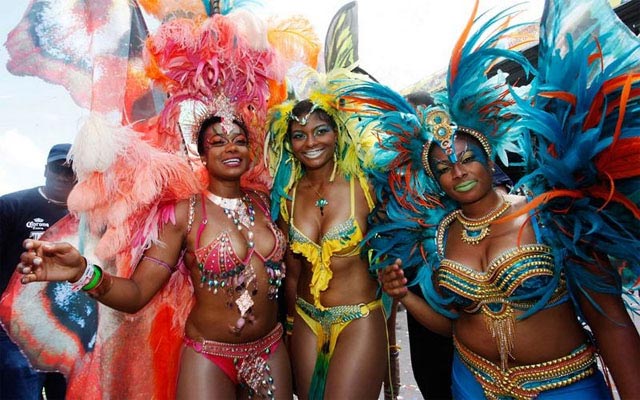 Soak'Ah Sweat is an Afro-Caribbean fitness party experience, which focuses on body pump, socaerobics, waistline workout and strength Exercises. Soak'ah Sweat was created in February 2017 by Jerimiah "Trini Souljah" Scott.
According to Scott, "The idea of Soak' ah Sweat came alive when I decided to be creative on the spot by combining dance/aerobic movements for the first time during one of my A1 Supreme Fitness "Fit2Fete" boot camps (started in 2016). My main goal is to raise awareness in South Florida's Caribbean community to live a healthy lifestyle and to stay physically active while having fun.
"Over the past 3 years of Soak'ah Sweat has evolved into a "fitness fete" were we pump, wuk and sweat to our infectious sweet soca music, 'THIS IS HOW WE FETE'.
"The beauty of Soak' ah Sweat is that it also allows highlighting other Afro Caribbean instructors and DJs during these events. Soak'ah Sweat was hosted in New York twice, and Atlanta. I do plan to go to other cities in 2020."
Scott's top five tips to get ready for Miami Carnival 2019: 
BE REAL WITH YOURSELF.
Set a realistic and attainable fitness goal.
EXERCISE & STAY ACTIVE 
Join a weekly Fitness session.

Home Workouts

Play your favorite sport.

GO HARD!
STAY HYDRATED! DRINK SMART!
MORE WATER…Less alcohol – save it for Miami Carnival. 
EAT HEALTHY.
Find a nutrition plan that suits you. Healthy meal prepping helps as well. 
STAY MOTIVATED.
Friends that Soak'ah Sweat together, stay together.

Find your favorite health/fitness page on social media.
Miami Carnival will be held Sunday, October 13. Visit www.miamibrowardcarnival.com for more information. Follow @miabrowcarnival on Instagram.