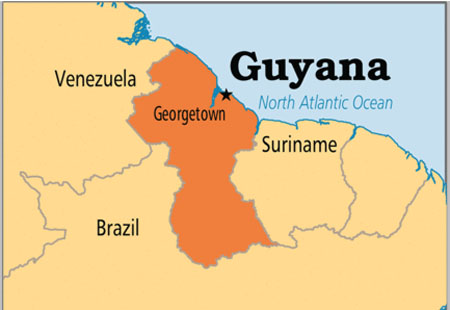 Guyana and Brazil to remark borders
The Governments of Guyana and Brazil will this week start the process of remaking the borders between both countries.
Last Saturday, officials from the two countries held a preparatory meeting ahead of the exercise aimed at solidifying friendship and demonstrating mutual respect for territorial integrity and sovereignty.
Fortification of relationships
During the meeting, Guyana's Counsul General to Brazil, Shirley Melville said the process is a significant step in the fortification of the relationship between the two countries.
"This is a step towards developing the relationship between Guyana and Brazil. We have been working together for a number of years. This is a continuation of building on that relationship," she said.
Her comments were supported by Dauberson Monteira da Silva, Head of the Commission on Border Demarcation for Brazil, who said the relationship between the two countries has been a long one, characterized by good will, friendship and mutual respect. He too, noted, the exercise will further strengthen the strong bond the two nations share.
Commissioner of the Guyana Lands and Surveys Commission (GLSC), Trevor Benn, chairman of the meeting, said the issues of sovereignty and territorial integrity are important to the Government and people of Guyana.
Appreciate cooperation from Brazil
"Our borders are very important to us in Guyana. We appreciate the cooperation from the Brazilian Government. Guyana is committed to the process and prepared to find the resources to ensure this process is completed. We have shared relations with Brazil for a long time and during our relationship we have been working to keep our borders clear so we can identify the border marks."
Benn said the Guyana Defense Force and the GLSC have dispatched four persons to facilitate the process beginning on November 16. He said Guyana has undertaken to fund some aspects of the process with Cabinet's approval.
"The team will look at the marks, repair and update them for posterity. The integrity of one's country is paramount. To ensure our integrity is assured, one of the things we do is to identify the borders to make sure it cannot be encroached or is not encroached by others. Since we have a really good relationship with Brazil it is easier for us to keep that border clean, clear and visible to all concerned," Benn said.
The process was started in 1994 but was stalled for years due to funding issues on both sides.
Due to the density of the forests in the border region, only four marks; BG15 to BG19 will be re-marked and redone during the four-day exercise. The remainder will be done at a later stage.
At the completion of the re-marking process, a follow up meeting will be held between the two delegations to discuss the successes and challenges for future planning.
For more on Guyana's borders, click the link: Guyana and Venezuela restore ambassadors despite border dispute