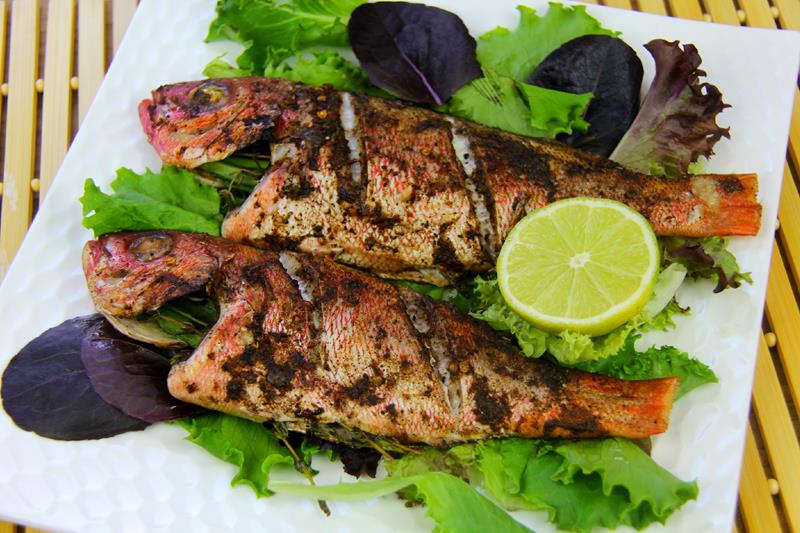 Throughout the weekend, Easter in the Caribbean is at least a four day affair, with Good Friday and Easter Monday being earmarked as public holidays in many countries. As Caribbean folks living in the US, we often miss the rest, respite, downtime, family time, and for some, party-time, that goes along with the Easter weekend holidays.
Food, however, is one way we here in the diaspora can celebrate Easter like we used to back home.
Across the region, red meat is traditionally given up for Easter. Fish, on the other hand, is the staple of the holiday.
In Jamaica, you'll find households across the island eating Escoveitch Fish. Made with king fish or snapper, Escoveitch Fish is seasoned simply with salt and pepper, then fried. The secret to this tasty dish, however, is the tasty vinegar-based sauce that is poured on top of it. This sauce is a cocktail of pimento seeds, onion and scotch bonnet peppers. The longer the sauce sits, the better it tastes.
Of course, we can't talk about Easter in Jamaica without giving honorable mention to bun and cheese. According to some, Jamaican bun is a tropical version of the English hot cross bun. Jamaican bun includes is a sweet treat that includes raisins, currents and other dried fruit. Cheese is stuck in between two slices of bun, to make the perfect 'bun and cheese', which is eaten constantly in Jamaica over the Easter weekend.
In keeping with the fish theme, however, in Bermuda codfish cakes are traditionally eaten at Easter. This dish is popular throughout the rest of the Caribbean as well, though the starch base may vary, and is said to have become rooted in the region's culture since colonial times. To make the dish, simply soak saltfish overnight to remove excess salt, and create a codfish smash with a mix of potatoes, onions and other seasonings. In Bermuda, codfish cakes are often eaten with green bananas.
In St. Lucia, accra, another style of saltfish fritter, is also widely eaten over the Easter season. Accra looks more like Jamaica's saltfish fritters, but is made with creole seasoning and hot sauce, and are often eaten with a tamarind-based dipping sauce.
In Barbados eating flying fish is a staple of the national diet, and at Easter the island celebrates by eating fish. Each year the country hosts a three day festival called the Oistins Fish Festival, where the highlight is fried flying fish, seasoned with Bajan seasonings, then floured, bread crumbed and fried. The family event also includes calypso and reggae music and celebrates fishermen, as well as honoring the nation's fishing industry as a whole.
This is a just a taste of the fish tradition across the Caribbean. Other countries are also on the fish-eating bandwagon for Easter too. So, if you're longing for home this Easter weekend, why not pull out some fish and either concoct your favorite dish, or stick to the traditional fare.