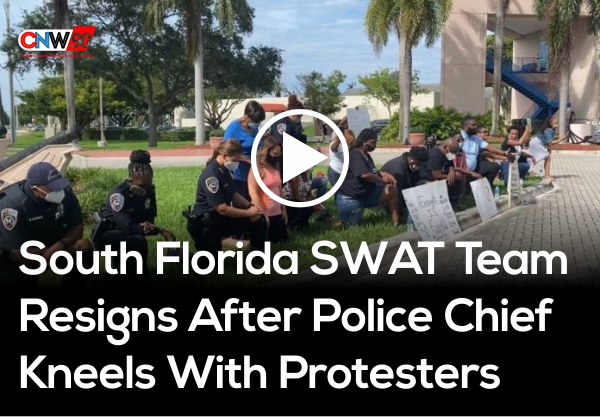 With a look at some of the top stories making the news today, June 15 across your Caribbean-American community in South Florida, I'm…for CNW 90.
Today's newscast is brought to you by the Florida Department of Health;
To help stop the spread of COVID-19, The Florida Department of Health in Broward County reminds everyone to practice social distancing, wash your hands often with soap and water and cover your nose and mouth with a tissue or sleeve when coughing or sneezing.
Coming up in the newscast, Florida sees a surge in COVID-19 cases, South Florida SWAT team resigns after seeing police chief kneel with protesters, and Jamaica reverses testing protocol for tourists.
Now for the news in the detail
As many businesses in Florida reopened last week under the state's phase two reopening, Florida's COVID-19 cases have surged to record highs. On Saturday morning, the state record a new daily record high of 2,581 cases of COVID-19, a 35% increase of the previous daily high recorded just the day before. On Sunday, another 2,016 cases were confirmed representing the second-highest daily total in the state. While bars, pubs, and movie theatres have been allowed to reopen, many of these businesses are under threat of the virus. In St. Petersburg, Tampa Bay, three bars announced their closure over the weekend as several of their staff tested positive for COIVD-19. Florida governor Ron DeSantis earlier attributed the spike in numbers to a farmworkers outbreak.
In the meantime, Ten members of a South Florida police department's SWAT team stepped down from their roles, citing several grievances that included the Hallandale Beach police chief kneeling with protesters earlier this week. The officers sent a letter to Hallandale Beach Police Chief Sonia Quinones on Tuesday, saying they were minimally equipped, under trained and that their safety was not taken seriously. The team members told the Police Chief that the last straw was when she and other members of the Command Staff took a knee in solidarity with Vice Mayor Sabrina Javellana during a protest last week Monday. According to the 10 officers, the kneeling showed a lack of support from the police chief. The eight officers and two sergeants will still remain with the Hallandale Beach Police Department.
In Caribbean News, Jamaica has again reversed the protocol for tourists and Jamaican nationals who will be entering the island as of today, June 15. Earlier, Tourism Minister Ed Bartlett had announced that all tourists visiting the island will be tested for COVID-19, but Prime Minister Andrew Holness clarified that this is not the case. Holness explained that tourists and Jamaican nationals assessed as high-risk travelers will be tested. All returning residents will be required to stay and home for 14 days, while the protocol for tourists will depend on their test results. All non-nationals visiting Jamaica visiting for business purposes for less than 14 days will also be tested. Holness advised that persons overseas that if they are ill or exposed, they should not seek to travel to Jamaica at this time.
For more information on these and other stories, visit CNWNETWORK.com. Remember to pick up this week's copy of our Caribbean National Weekly at your nearest Caribbean – American outlet.