A wedding ring has long been an expression of eternal love and devotion for many couples. Choosing the right ring can be daunting, and there are so many options out there for those who seek traditional or contemporary wedding rings.
For those who prefer something out of the ordinary, something with a deeper meaning, there's Jamaican jewelry-maker Anna Ruth Henriques. She creates eye-catching, one-of-a-kind pieces for her clients.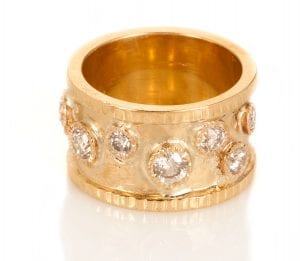 Born and raised in Jamaica, Henriques is a multifaceted, award-winning artist and jewelry-maker based in New York. Her custom wedding rings have adorned the fingers of Jamaicans at home and abroad, as well as others around the globe.
"I am inspired by people's personal stories, and what is meaningful to them on a spiritual and energetic basis, particularly," Henriques says.
However, a wedding ring by Henriques is likely to be an out of the ordinary design. "My work is for women who are not really crowd followers. Women who are not conforming to what Western society has imposed on all of us. Women who see that all is interconnected on this planet," she shares.
Henriques' jewelry comes with light, liberating energy, she says, as she consciously ignites the fires of nature and female empowerment in each of her pieces.
Undoubtedly, Henriques' line of jewelry is art. Each unique piece evokes whimsy, uncanny creative expression, and meticulous attention to detail.
Henriques lives a colorful life in New York where she has built success as an all-around artistic wonder-woman—writer, actor, performer, and of course, jeweler.

Her artwork is in the permanent collections of New York's Jewish Museum and El Museo del Barrio, as well as the National Gallery of Jamaica. She is also the author and illustrator of The Book of Mechtilde (Knopf) and is currently working on a novel in prose. She also starred in Eleanor Antin's film, Man Without A World. 
Henriques launched her first jewelry collection at Barneys New York and went on to create a top-selling jewelry line, Aayenda, for a post-war Afghanistan-based non-profit, Future Brilliance. Her jewelry can be found in boutiques across the globe.
"I grew up in the countryside of Jamaica where I spent a lot of time at my grandparents' house outside barefoot, running around, playing with animals, including insects. My work is inspired by those times and nature," she says.
Henrique's jewelry frequently showcases insects, nature and wildlife detailing, which mix seamlessly with spiritual undertones that she says are roused by notions of universality, embracing humanity and love. She describes her work as symbolic narratives, each telling a story that awakens, inspires, or heals.
For couples looking for wedding rings that are thoughtfully created with deep meaning, this Jamaican artisan is a good bet.