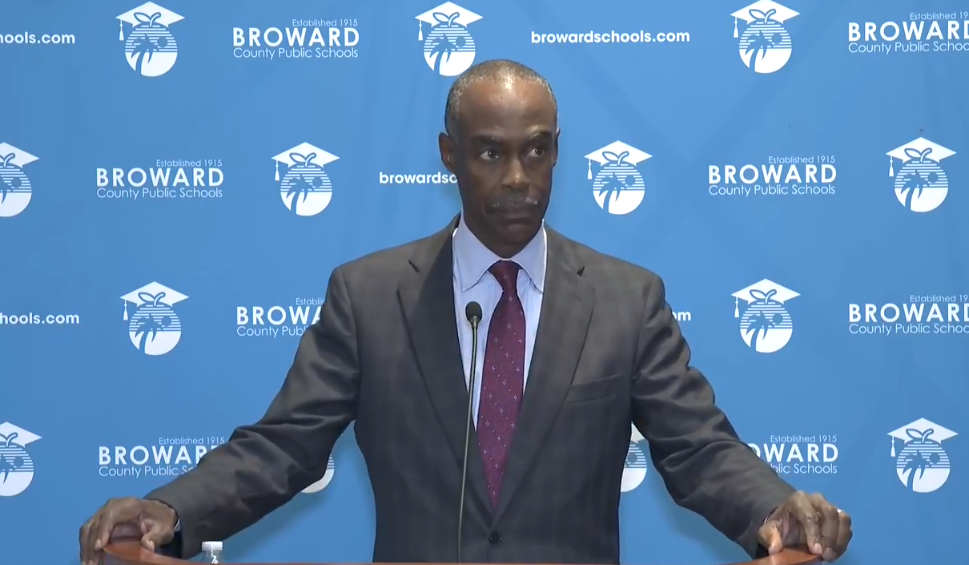 Broward County Public Schools (BCPS) Superintendent Robert Runcie says that the fear of being back in the classroom could be attributed to the mass resignation of school teachers this school year.
After being told in December that they would have to return to the classroom for the start of the new semester, almost 100 district employees chose to retire. Between, December 16 and the first week of January, some 55 teachers had retired from their jobs.
During a news conference on January 19, Runcie addressed the absences of teachers in the classroom.
"We have retirements, resignations, and leaves every year," Runcie said. "Compared to last year this time, last year we had 247 teachers taking leaves, but this year it's 259. Resignations last year were 320, this year it's 325. The biggest jump is retirements which were at 108 last year, and 340 this year."
When asked if he believed that being ordered back into the classroom contributed to the massive jump in the resignations, Runcie said "that could possibly be the case."
"I would imagine there's some impact on that. The [return to work mandate] is definitely attributing to some of it. There's a lot of stress, fear and anxiety about the moment we're in and I understand that. Unfortunately, there's also a lot of information that continues to be spread that heightens the fear and concerns of teachers instead of alleviating them."
Runcie continues to push for students to return to the classroom, saying that many of the district's students are falling behind in their academic studies.
"We've seen a significant increase in the number of students who have one or more failing grades. That number has gone up from 4% to 11%. The number of students that have 15 or more absences in the first quarter also increased, from 1,700 to over 8,200. And of great concern, is the 59,000 students we've identified who are not making adequate academic progress," Runcie said.
But despite Runcie's push for in-person instructions, many parents say that they don't believe it's safe for children to return to face-to-face instruction in Broward Schools.
"We receive COVID notifications almost daily from our child's middle school. Someone isn't being completely transparent here," said Lis Rodriguez, a BCPS parent, during the press conference.
Similar sentiments were expressed by Natasha Gonell, who wrote, "I've received 3 emails within the past seven days of COVID cases at my son's schools. And you've forced teachers with severe underlying conditions back in. Terrible."
Another parent, Ali Taffe, also said that her daughter was sent home to quarantine for 14 days because her teacher had COVID-19. "THIS IS NOT SAFE!," she said.
Runcie says he continues to push for teachers in the county to be moved up on the priority list to get the COVID-19 vaccine.