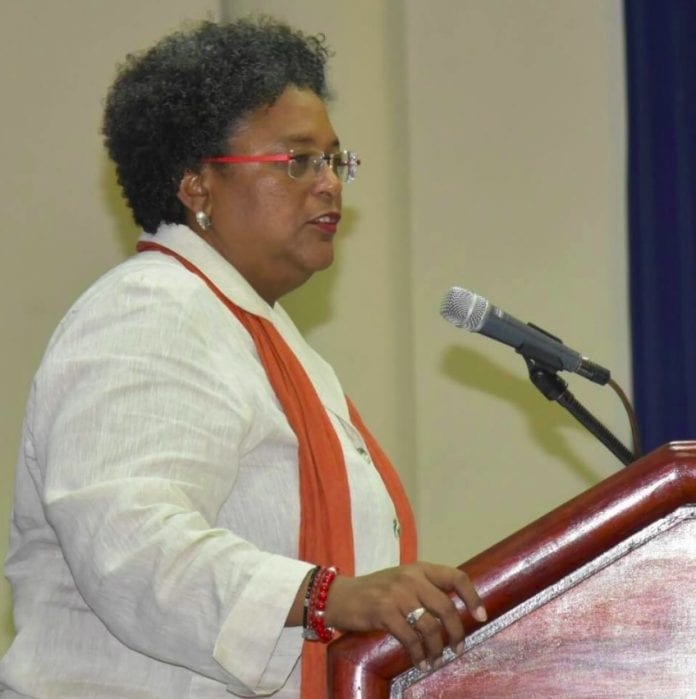 The Prime Minister of Barbados, Mia Mottley, has signaled her intention to deepen political and economic cooperation with the nine nation Organization of Eastern Caribbean States (OECS).
In her first address outside of Barbados since assuming office, Mottley told representatives of the 65th Meeting of the OECS Authority which began its working session  in St; Lucia on Tuesday, that her administration wanted mutually beneficial solutions to critical issues such as climate change, freedom of movement and transportation challenges. 
Climate change issues
She spoke of the need to resolve climate change issues, pointing to the influx of sargassum seaweed as an opportunity for economic benefit, rather than treating it as a problem that affects our coast and tourism industry. 
"We have had to confront it as you do across the rest of the region, but we believe that our best efforts are when they are cooperative and to that extent our ability to harvest the sargassum weed collectively and maximize what ever economic benefits we can get from it rather than treat it as a nuisance that affects our coasts and tourism industry, is the way in which we would like to pursue discussions."
She said that freedom of movement was another pressing concern, and finding a way forward for the regional airline LIAT. 
 Engaging with OECS leaders
On the issue of inter-island transportation, the Barbados leader said she looks forward to engaging with the OECS leaders, " and particularly fellow shareholders and soon to be other shareholders in the context of regional carrier, Liat."  
The OECS is made up of seven full Member States, Antigua and Barbuda, Dominica, Grenada, Montserrat, St. Kitts Nevis, St Lucia and St. Vincent and the Grenadines; and three Associate Member States: the British Virgin Islands, Anguilla and Martinique, all of whom are expected to be represented at the summit.