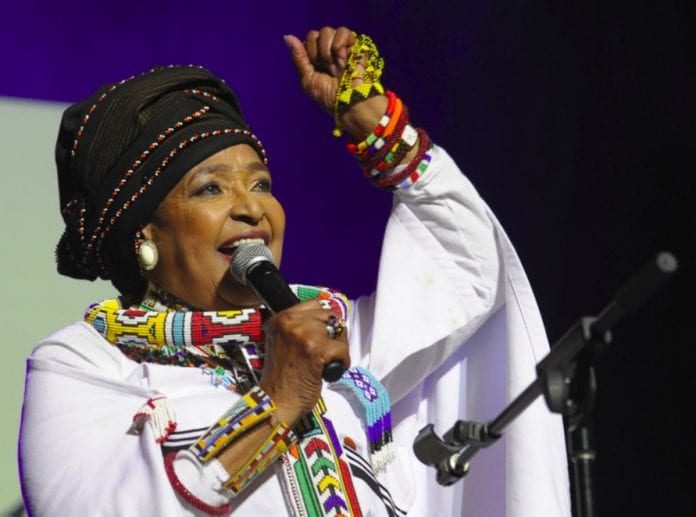 Earlier this month, even as America and the rest of the world prepared to memorialize the passing of the Rev. Dr. Martin Luther King, an iconic fighter for the rights of black people, another fighter for black rights died.
On April 3, Winnie Mandela, 81, former wife of apartheid fighter and late president of South Africa, Nelson Mandela died in a South Africa hospital following a kidney infection.
Winnie, as she was affectionally known around the world became Nelson Mandela's wife in 1958 and bore him two children. Just six-years after their marriage as Nelson strived for the civil rights of black South Africans under the repressive system of apartheid or racial segregation, he was arrested, to remain in prison for the next 27 years.
She took on the fight against apartheid
But Winnie Mandela, did not fade away. She took on the fight against the might of the white South African government, fighting relentlessly against apartheid policies and for the freedom of her husband.
She never yielded in fear or frustration
Most likely without Winnies Mandela deliberate role to free her husband from prison and be a leader against apartheid Nelson Mandela may not have been released. During her relentless mission she suffered badly. She was banned by the South African government for 13 years, not allowed to give interviews or attend meetings. Then she was banished to a remote town for eight more years. Her housed was set afire twice, and later was imprisoned. But she never yielded in fear, or frustration.
Encouraged the Caribbean to oppose apartheid
It was during Winnie Mandela's struggles and determination for the freedom of her people that most of the Caribbean knew of the life and struggles of Nelson Mandela. She encouraged the Caribbean to oppose apartheid and join the fight to free her husband. Until Nelson was freed from his prison n Robbin Island in 1992 it was Winnie Mandela who was the persona of the anti-apartheid movement.
When Nelson was released, greeted by Winnie, and the couple embraced cheered on by an ecstatic nation and most of the world, it was the end of one disastrous and barbaric era, and seemed the beginning of a new and joyous one. But, soon after, the world was to learn of atrocities that Winnie allegedly committed in her zeal to turn back apartheid and have Nelson freed.
Disappointment with Nelson Mandela
As loved and revered as  Nelson became, especially to the black world, there was disappointed when he divorced Winnie in 1996, and  removed her from his presidential Cabinet. Once more Winnie was banished, this time by the man she fought for with great personal sacrifice for 27 years. Some felt that even if the couple divorced, Nelson could have stood by her and kept her in the government. But such is the twist and turn of history.
Her impact didn't pale with South Africans
The allegations against her, her divorce, her banishment from the government led by her husband did not pale the impact she had on South Africans who often hail her as the "Mother of the Nation" and the "Lioness of the fight against apartheid."
It's reported that as Nelson's health deteriorated she visited him often, and it appeared peace was made between them.
Winnie Mandela was a woman of unusual strength and courage. She may have erred in her passion and zeal for freedom of her people, and her hatred for informers who betrayed her mission. But she was, and should be, forgiven. Today's South Africa where Blacks are the established authority was unimaginable for decades.
Unarguably, without the relentless mission of Winnie, Nelson  Mandela could have died in prison, and South Africa still be under white rule.
Here was a great, unusual woman, who motivated women elsewhere to be as courageous for the cause of their people. Long live the memory of Winnie Mandela. Rest in power – Winnie Mandela!