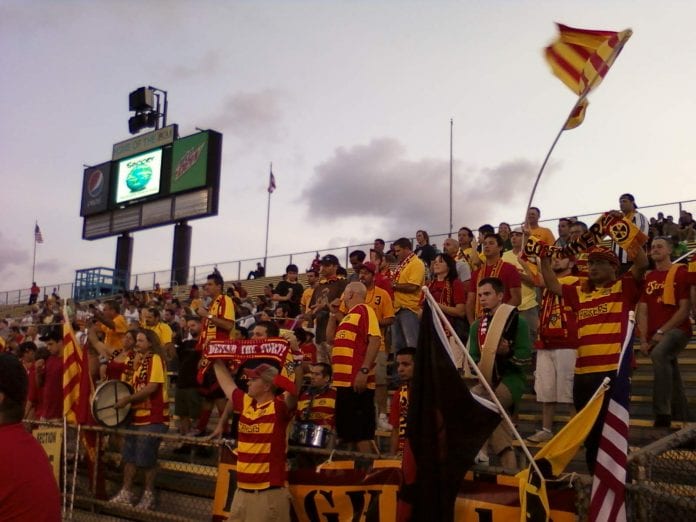 Ft. Lauderdale Strikers loss ends 7 game streak
The Fort Lauderdale Strikers had an end to their undefeated streak after a 4-1 loss to rival, the Tampa Bay Rowdies at a rainy Central Broward Stadium on Saturday.
The Strikers result coupled with other NASL action this weekend, sees the Fort Lauderdale in eighth place in the combined standings. But Fort Lauderdale sits just four points out of the final spot in the NASL Championship, currently held by Minnesota. Tampa Bay takes ahold of fifth place, one point behind the Loons.
For the Rowdies, former England international and Premier League winner, Joe Cole, found teammate Georgi Hristov inside the box right in front of goalkeeper Bruno for a sliding goal. Hristov also scored another goal in the 43rd minute and completed his hat trick with eight minutes to play. Tommy Heinemann's tally in the 37th minute gave the Rowdies a 3-1 lead at halftime.
Back in the game, the Strikers caught a break but were unable to score enough to bring them to victory. After Junior Sandoval and Amauri came on the pitch in the 53rd minute to strengthen the front, Sandoval came close with a couple of attempts in a span of two minutes.
At one stage, the Strikers managed a series of six corner kicks but without netting a goal. Nunez also executed a dangerous free kick in the 74th minute as Tampa Bay goalkeeper Matt Pickens managed to block the ball giving the home team another corner.
During the intense play, Bruno made eight saves which included a few high quality stops keeping the Strikers loss to a low 4 of the Rowdies total 12 shots on goal.
The Strikers hit the road for three consecutive games losing to Puerto Rico F 2-1 . They will now travel to New York to take on the Cosmos on Sunday, followed by a game in Carolina October 8th.