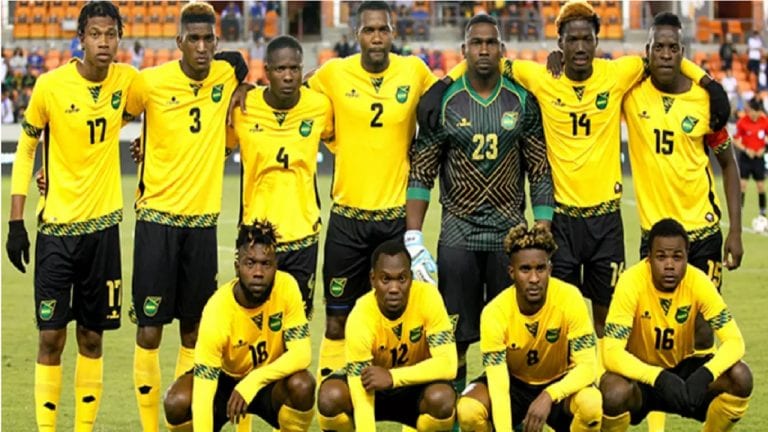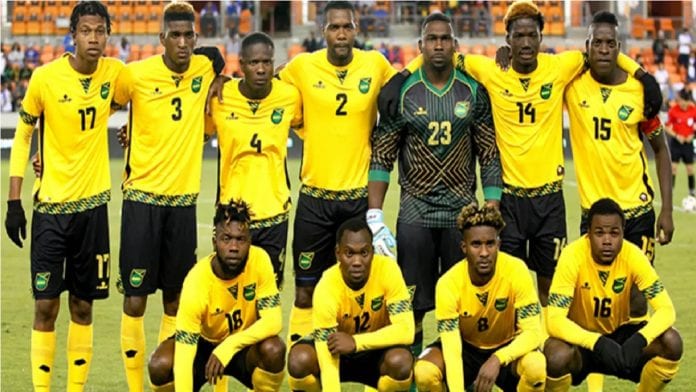 Jamaica's reggae boyz will look to get back on track for a place at next year's Qatar World Cup Finals when it takes on Panama at the National Stadium in Kingston today. Game time is 6:00 pm (EST).
The Reggae Boyz suffered a heart-breaking 1-2 loss to Mexico at high-altitude Azteca Stadium in Mexico City on Thursday night, conceding the winning goal in the 89th minute, after frustration the hosts for the most part. That defeat left them at last place in the eight-team final-round play-offs without a point.  While not at a critical state at this time, the team must win today to amplify their chances of taking one of the three automatic spots
Mexico leads the standings with maximum of three points, and all other teams – USA, El Salvador, Canada, Honduras, Costa Rica and Panama – are on one point following stalemates on Thursday.
With another set of matches slated for next Wednesday, Jamaica's Head Coach Theodore Whitmore has been forced to rely on a wide pool of players with three games in seven days.
Added to the pressure of match days,  the "strong-arm" tactics employed by the English Premier League clubs to block players from travelling to  "red list" countries is creating headaches for countries.  Some 62 FA League players are affected. The decision was taken so players would not miss club games on their return to the UK due to that Government's quarantine rules aimed at reducing the risk of coronavirus spread via international travel.
That ruling asks for anyone travelling to these countries to be quarantined for 10 days in a designated hotel upon entry to the UK.   As such, Whitmore was forced to play against Mexico, one of the "red-listed" countries, without a dozen England-based players.  Fortunately, they are eligible to play today in Kingston.
Including in that list is West Ham United's ace striker Michail Antonio, the English Premier League's top scorer at the minute with four goals and three assists after three games.
The 31-year-old was invited to the Senior England side before but has never played. He earned his right to represent Jamaica through both parents who are Jamaican-born.
He is expected to make his debut today, along with another first-time call-up, Ranger's top striker Kemar Roofe.
For Whitmore, it is a good headache to have so many players at his disposal.   "Well, it's good when coaches can have headaches in selecting the squad, but it's how we handle it. We have a lot of players – it's how we treat it (squad selection)…it's a headache that any coach would want to have," he said.
And while there is obviously a lot of attention on Antonio, Whitmore advised that the Reggae Boyz are more than one man. "We look forward to not only Michail Antonio. We don't want it to seem like a one-man team. We have Bobby Reid, we have others here, and we need players who are gonna help us, committed players who are going to bring us forward," he added.
Whitmore had called up 35 players for the three games, and a number of those who were in the 23-man squad for the game against Mexico will sit out today's game.
The game will be played without spectators, as per the Jamaican Government guidelines in an effort to minimize the spread of the virus.  For many of the Jamaican players, the venue will be new to them as the team has not played there in more than two years.
It is highly likely that the defensive line will be a lot different from last Thursday, as well as the midfield, with Whitmore having a lot of options in attack.
Whitmore and his technical staff will always bear in mind the importance of rotation with a visit to Costa Rica next up.
In other games today, Costa Rica hosts Mexico, El Salvador entertains Honduras and Canada travels across the board to face the USA.
Jamaica squad: Andre Blake, Wesley Harding, Ethan Pinnock, Ravel Morrison, Alvas Powell, Liam Moore, Kemar Roofe, Oniel Fisher, Cory Burke, Bobby Reid, Shamar Nicholson, Junior Flemmings, Dillon Barnes, Javain Brown, Blair Turgott, Daniel Johnson, Michail Antonio, Lamar Walker, Adrian Mariappa, Kemar Lawrence, Tyreek Magee, Devon Williams, Dennis Taylor.