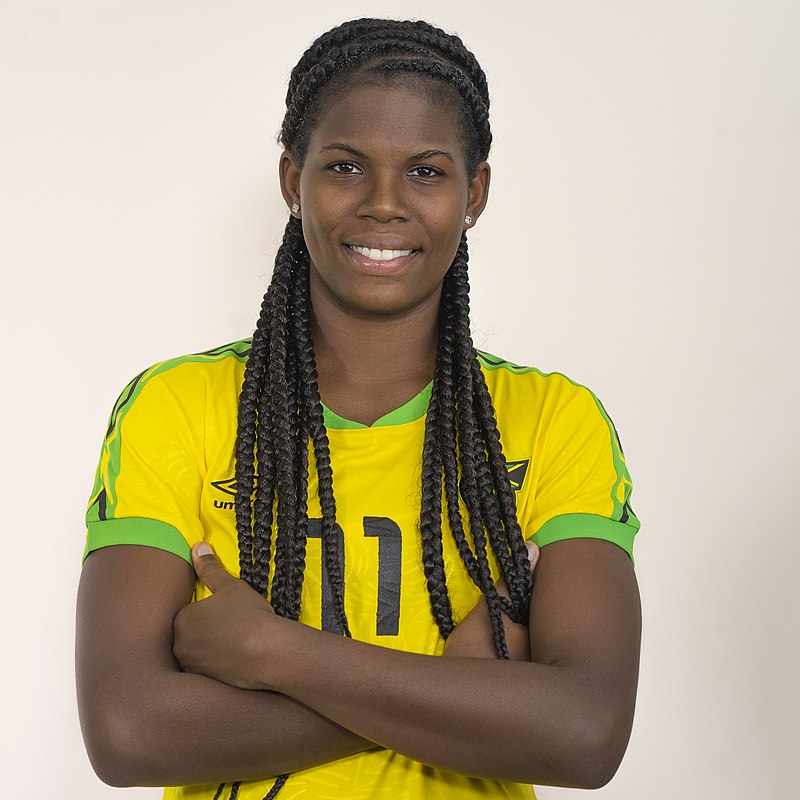 Jamaica's leading goal scorer, Khadija "Bunny" Shaw is among the best female football players in the world, according to ESPN FC.
The Jamaica Reggae Girlz captain was ranked at number 31 on ESPN FC's list of 50 best female players in football right now. The list was compiled by women's football experts both within and outside of ESPN.
Shaw ranked higher than Brazil's Marta (ranked 35), the United States' Alex Morgan (ranked 38) and Megan Rapinoe (ranked 40).
At just 24-years-old, Khadija "Bunny" Shaw is already Jamaica's all-time leading goal scorer across genders. In 2019, she joined French side Bordeaux, bagging 10 goals last season last year. She is also the Division 1 Féminine league's leading goal scorer this year, with 19 goals.
No Jamaican footballer, male or female, has ranked higher on ESPN's lists, which makes Shaw the highest-ranked Jamaican football player ever.
Former France defender Aline Riera said of Shaw last December: "She has a rare profile… athletic and very powerful with exceptional ball coverage, but also capable of incredible things with her feet because she has a very good technique and goes fast."
ESPN FC also hailed Shaw for her "extreme mental strength" in the face of great personal tragedy.
"Losing four brothers and two nephews while in college tested her resolve to stay in the U.S, or even continue with football, but the sport gave her focus and provided a refuge," Lindsay du Plessis said for the network.
Shaw has played internationally at the U-15, U-17, U-20 and senior levels for Jamaica, debuting for the former aged 14.
She made her senior international debut on August 23, 2015, scoring twice in a 6–0 victory over the Dominican Republic in an Olympic qualifying game. In 2019, Shaw was part of the Jamaica team that qualified for the 2019 FIFA Women's World Cup. In doing so, they became the first Caribbean nation to ever qualify for a Women's World Cup.
In 2018, Shaw was named Guardian Footballer of the Year, an award given to a footballer "who has done something truly remarkable, whether by overcoming adversity, helping others or setting a sporting example by acting with exceptional honesty."
In 2020, she made history by becoming the first national female football player to be honored with a National Award. Shaw received the Order of Distinction in the rank of Officer for outstanding achiev​ements in Sports, specifically football.