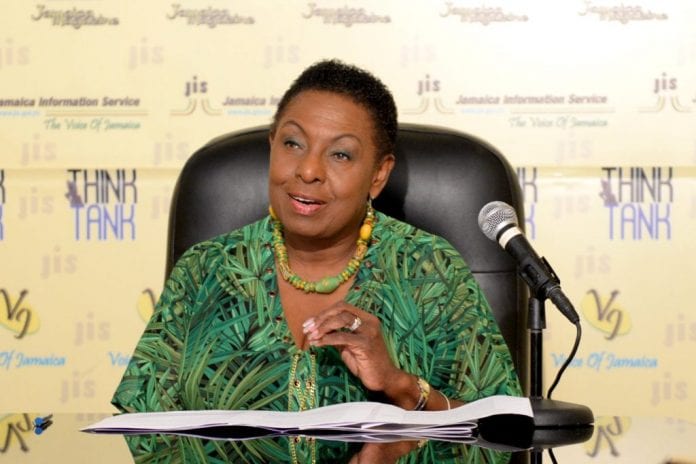 As Jamaica readies to celebrate its 58th Independence, Minister of Culture, Gender, Entertainment and Sport, Hon. Olivia Grange has ignited calls for the diaspora to join in this year's celebration. The theme for this year's Festival celebrations is "resilient and strong"—fitting in the year of COVID-19, especially when a few months ago it seemed the virus would cheat Jamaica of its annual Festival. But the minister, in her resilience, has succeeded in planning for a virtual 2020 Jamaican Festival.
Speaking at the Emancipation and Independence thanksgiving church service held on August 2, Minister Grange cited Jamaicans at home and abroad have been "resilient and strong" in the fight to contain the pandemic.
"We, without a doubt, have been proving ourselves capable of measuring up to what is required in the face of the pandemic. We have done much better than many of the large countries in the world," she said while urging Jamaicans to give thanks.
While COVID-19 has significantly restricted this year's independence celebrations, Minister Grange said the pandemic "will not dampen our spirit and cannot stop us from celebrating our Emancipation and Independence anniversary with enthusiasm."
She noted that the celebrations will be conducted in a "controlled environment and directed by the protocols that have been established."
She also is attempting to increase the support from the diaspora, encouraging Jamaicans living abroad to tune in to the virtual celebrations and participate in the "spirit of Independence" competition.
The name Olivia "Babsy" Grange has long been synonymous with Jamaica's culture, youth and entertainment industry. "Babsy" Grange worked her way from humble beginnings to becoming one of the island's most respected and hard-working politicians and ministers.
Grange was born in 1946 in Luke Lane, one of the communities in West Kingston known for poverty and violence. Her father was a shoemaker and her mother was a dressmaker. She attended All Saints Primary and Gainstead High School, where she displayed early leadership qualities and was the head girl.
After high school, Grange migrated to Canada to live with her mother who had earlier emigrated when Grange was nine years old. In Canada, she attended Ryerson University.
After University, she began working with the Human Rights Commission, a division of the Department of Labor in Ontario. During this time, Grange said she was exposed to several instances of discrimination, which played a part in her decision to return to Jamaica after five years.
When she returned to the island, she started working closely with Jamaica Labor Party's (JLP's) Edward Seaga, the member of parliament for her native West Kingston constituency. Her major role was as an organizer, implementing some of the community's cultural events imagined by the cultural-minded Seaga. It was then that Grange became known as a woman of culture, as she turned the youth of Tivoli Gardens in outstanding performers in music, dance, song and drama.
But after violence flared in Jamaica in January 1976 in anticipation of general elections, the infamous state of emergency was declared by then Prime Minister Michael Manley. Grange was one of the prominent members of the JLP who was accused of trying to overthrow the government and was detained at the Up-Park Camp military headquarters. She was the first woman locked up during the state of emergency and was detained for seven months.
Grange was later freed on the condition that she leave the country immediately. She complied with the conditions set and returned to Canada where she resided until 1980 when the JLP led by Seaga won the general elections, and Seaga became prime minister.
Returning home, she was assigned to the Jamaica Cultural Development Commission (JCDC) as the director of popular music.
In 1981, she had the sad responsibility of planning the funeral of reggae icon Bob Marley, who died in Florida on May, 11 of that year.
From 1983 to 1985, Grange served as government senator and parliamentary secretary for information and culture. From 1985 to 1989, she was promoted to serve the minister of state in the Office of the Prime Minister, with responsibility for information and culture.
In 1997 she entered representational politics, running as a Jamaica Labor Party (JLP) candidate for St. Catherine Central, and was elected into Parliament in general elections held that year, although the JLP lost the elections to the People's National Party (PNP).
In 2007, she again found her place in government in Bruce Golding's administration and served as minister of information, youth, sports and culture until December 2011, when the JLP lost that year's general elections. She resumed her ministerial responsibilities in March 2016, this time in the Andrew Holness administration as the minister for a mega-ministry, the Ministry of Sports, Culture, Entertainment and Gender Affairs.
A reggae enthusiast, Grange is also a founding member of the Jamaica Association of Composers, Authors and Publishers (JACAP). In 2018 she was instrumental in having reggae music added to the UNESCO international cultural heritage list.
In 2015, Ms. Grange was awarded the Order of Distinction, in the rank of Commander (CD), for her contribution to the Jamaican Music Industry, Cultural Development and Public Service.
She has one daughter—Paula and three grandchildren.