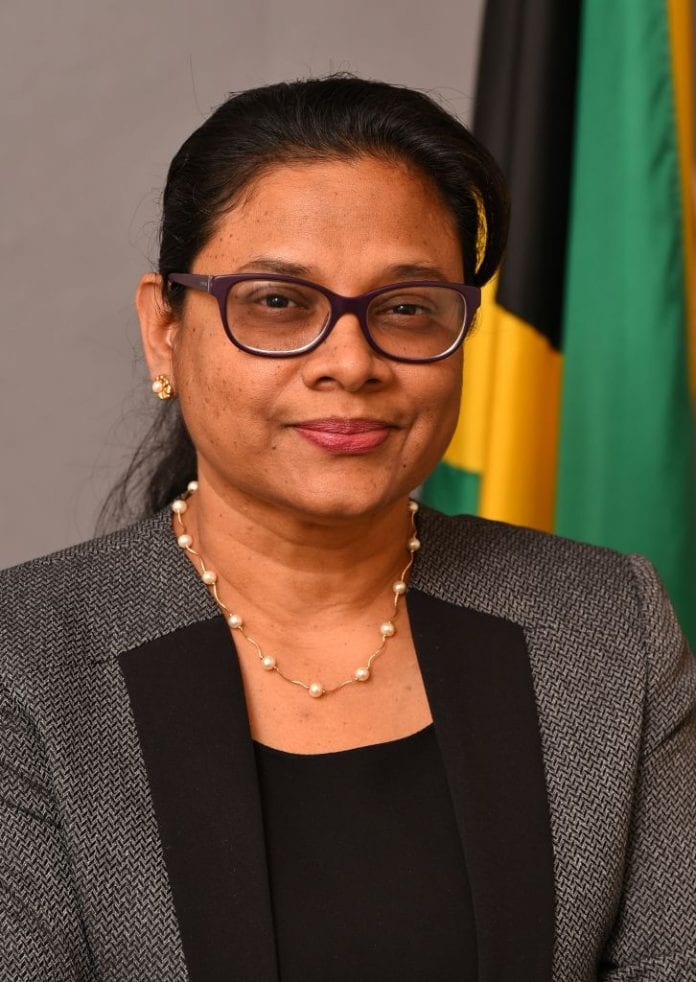 Jamaica is in the midst of yet another COVID-19 crisis, which is on the verge of overwhelming the island's already harassed healthcare sector. 
A massive increase in COVID cases, with an alarming between 20 to 3 percent positivity rate each day, increased hospitalizations, and limited hospital beds have left healthcare professionals and leaders in the government, and the Ministry of Health and Wellness in particular, fatigued. 
Despite being overwhelmed, the health ministry's leading trio—Health Minister Dr. Christopher Tufton, Permanent Secretary Dunstan Bryan and Chief Medical Officer (CMO), Dr. Jacquiline Bisasor-Mckenzie — is the picture of calm authority during the weekly health briefings to the nation. 
For Dr. Bisasor-McKenzie, in particular, her demeanor has remained composed, giving an assurance to Jamaicans that the ministry has a firm grip on the pandemic, despite the grim outlook. 
Before March 2020, relatively few Jamaicans had even heard of Dr. Bisasor-McKenzie or the CMO position in the Ministry of Health and Wellness; but now, a year later, Bisasor-McKenzie's name has become a part of health conversations across the island, and in the diaspora.
Jacquiline Bisasor-Mckenzie was born in Trelawny, as the youngest of three children of Vincent Snr, a chemist in the nation's sugar cane industry, and Icylin, a secretary. Because of her father's job, the family moved regularly across Jamaica to several parishes before finally settling in Clarendon. 
Bisasor-Mckenzie was never interested in pursuing medicine while growing up. However, her father's work sparked an interest in the sciences and she completed her first degree in chemistry, with a minor in food processing at the University of the West Indies (UWI). After graduating, she worked in the manufacturing industry as a quality control chemist for two years.
Jacquiline's brother, Vincent, on the other hand, had always relayed an interest in pursuing medicine. In an attempt to persuade her to also pursue a medical career,  Vincent filled out a medical school application for her, and to her surprise, she was accepted.
She began medical school at UWO in 1988. Her school year started later than usual because of the deadly Hurricane Gilbert that impacted Jamaica that September. After completing medical school in five years, she got married to Garth McKenzie, whom she met while attending sixth form at St Jago High. She had her two older children, Jordan and Kristen while completing her internship at the Spanish Town Hospital.
After working at a health center for a few years, Bisasor-Mckenzie returned to the Spanish Town Hospital, this time, to work in the accident and emergency department (A&E). After spending another year in the A&E department, the doctor opened a private practice with a colleague in 1996.  
She later returned to college to earn her doctorate in emergency medicine. In her fourth and final year, she got pregnant with her third child, Katherine.
Bisasor-McKenzie gave birth just before her final exams, and after receiving her results, she was invited back to the Spanish Town Hospital to run its A&E department. From 2005, she managed the department before leaving the hospital in 2014. 
That year, she began working in the Ministry of Health, as Director of Emergency Medical Services. Her new role came at a time when the world was grappling with the Ebola crisis. Although there were never any reported cases of the virus in Jamaica, Bisasor-McKenzie got an inkling of what it would be like to manage a national public health crisis.
So, once more she returned to school to enhance her public health education. And, after completing a master's in public health, she assumed the role of principal medical officer and director of emergency disaster management and special services at the ministry in 2016.
After successfully managing crises like ChikV, Zika, Ebola and H1N1, Bisasor-McKenzie became the CMO at the ministry in 2018.
Her current focus in the top public health role is continuing to manage the COVID-19 pandemic. Her two oldest children, who are now also doctors, have also joined the fight against the virus at two local hospitals.
While battling a national crisis, Jacquiline Bisasor-McKenzie has also had to manage her own struggles. She lost her sister to cancer on February 1, 2020, a month before COVID-19 hit Jamaica. Luckily, she is still supported, both professionally and personally, by her children and her husband of 28 years.