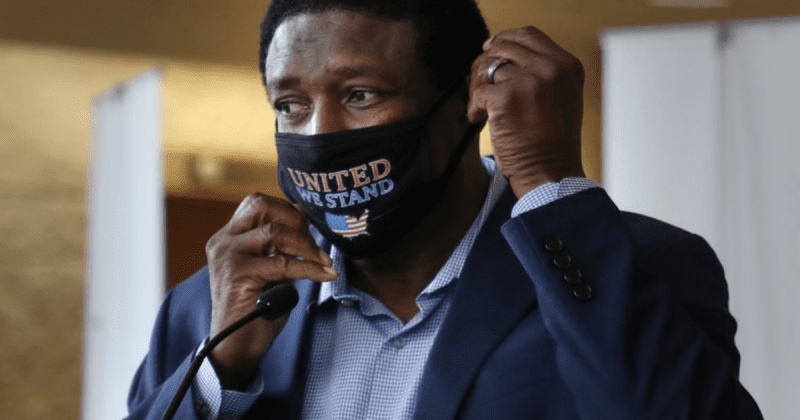 The nation continues to grapple with the insurrection that took place at the U.S. Capitol on January 6th when a violent pro-Trump mob stormed the building in an attempt to overturn the presidential election results, subvert U.S. democracy, and grant Trump a second term.
Elected representatives in Congress had to batten down, hide under desks, and wear gas masks while Capitol police tried unsuccessfully to blockade the building to keep the mob out. And the world watched in disgust and disbelief at the unfolding of one of the most disturbing events America has ever seen at the Capitol. The incident left at least four people dead—including a woman who was shot by police.
In the wake of this atrocity, many current and former officials are voicing their utter disgust. CNW asked Broward County Commissioner Dale V.C. Holness how he felt about the incident.
"In a word: disgusted!" he said. "It is an indication to us as Americans not to reward leaders who do not know how to engage with civility in the public discourse. These people were riled up, they were practically instructed to go and do what they did, which is vile. For someone who is supposed to be the leader of the free world to act in such a nasty and disgusting way, is absolutely vile," he added.
Trump's first homeland security advisor Tom Bossert said of the incident in a Tweet, "This is beyond wrong and illegal. It's un-American. The President undermined American democracy baselessly for months. As a result, he's culpable for this siege, and an utter disgrace."
House Speaker Nancy Pelosi, in her address to the joint session of Congress following the siege, said, "We know that we're in difficult times. But little could we have imagined the assault that was made on our democracy today. To those who strove to deter us from our responsibility, you have failed." She continued, "To those who engaged in the gleeful desecration of this, our temple of democracy, American democracy, justice will be done."
But this terroristic act was not without persistent encouragement. For months prior to the election and after the election, Trump has been talking about rigged elections, voter fraud, and a myriad of other debunked accusations about the electoral system. These and other events were stoking the fires of this insurrection.
The final call to action was heard loud and clear at the rally Trump held across from the White House as lawmakers gathered at the Capitol to do their sworn duty and confirm the election of Joe Biden as president. Trump instructed his supporters to march on the Capitol to "fight" and "show strength."
"All of us here do not want to see our election victory stolen by emboldened, left, radical Democrats," Trump told the crowd. "That's what they've done and what they're doing…We will never concede. This was not a close election." 
He is still president
Faced with the prospect of 13 more days with Donald Trump as president, many people are worried about what else he might do, given the power he has as commander in chief. Commissioner Holness does not believe we should take any chances.
Holness said, "I believe the 25th Amendment should be invoked and he should be immediately removed from any access to any instrument of power. Members of his party should rebuke him and shun him so they can remove their complicity from empowering him to continue doing what he has done." 
Even former Attorney General and Trump loyalist William Barr is condemning the president's role in the siege of the Capitol. According to the Associated Press, Barr said in a statement Thursday, "orchestrating a mob to pressure Congress is inexcusable." He also called Trump's conduct, while his supporters were storming the Capitol, a "betrayal of his office and supporters."
One of the issues that will remain, given the swath of people, upwards of 74 million, who voted for Trump and many who believe his lies that the election was stolen from him, is that the Biden-Harris administration will have a very difficult time convincing them or even proving their legitimacy. Holness believes that the treasonous attempts yesterday will "open the eyes of many Americans to realize that there is a much better way to handle our differences than to follow this disgusting path that Donald Trump has utilized."
Biden's Presidential Win Confirmed

Following the failed coup, however, a resolute Congress confirmed Democrat Joe Biden as the presidential election winner before dawn on Thursday—in essence refusing to allow mob rule to win.
Vice President Mike Pence, who has been one of the president's most ardent supporters, announced the final result of 306 to 232 electoral votes.
A defiant Trump, who still has not accepted defeat, subsequently promised a smooth transition of power on Inauguration Day. 
In a statement posted to Twitter by an aide, Trump said, "Even though I totally disagree with the outcome of the election, and the facts bear me out, nevertheless there will be an orderly transition on January 20th." 
It remains to be seen, in these last days of the failed Trump presidency, whether he will continue to wage war against democracy or retreat to a corner to mull over his defeat.