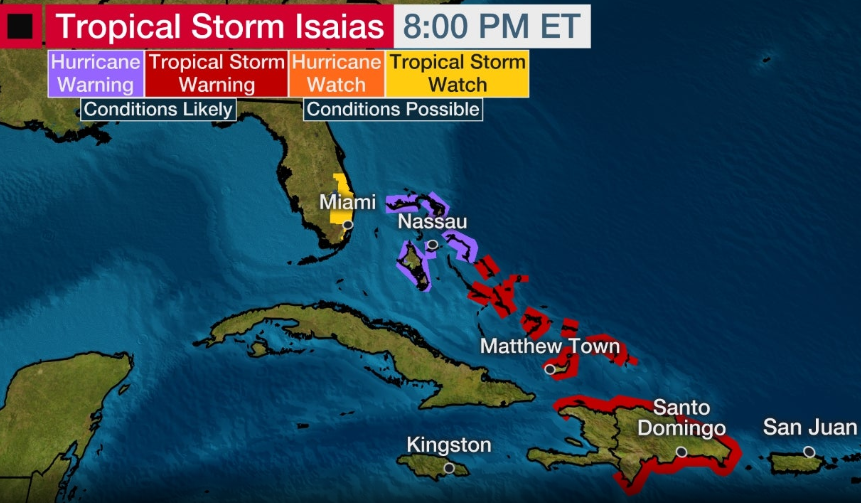 (VIA Weather.com) Tropical Storm Isaias (ees-ah-EE-ahs) is emerging over the ocean north of Hispaniola and could become a hurricane near Florida and the Bahamas this weekend, then track up the East Coast as far north as New England early next week.
Tropical storm watches have been issued in parts of the Florida Peninsula, including Miami, Fort Lauderdale and West Palm Beach. A watch means tropical storm conditions are possible within 48 hours.
Hurricane warnings have been issued for the northwestern Bahamas, including Nassau, Freeport and the Abacos Islands, where hurricane conditions are expected Friday night into Saturday.
Tropical storm warnings stretch from the Dominican Republic and Haiti into the central Bahamas chain. A warning means tropical storm conditions are expected in the next 36 hours. The National Hurricane Center said these warnings may be later converted to hurricane warnings in the central and northwest Bahamas.
While bands of locally heavy rain are persisting in parts of Puerto Rico, the heaviest rain is now pummeling parts of the Dominican Republic. Winds have gusted to 52 mph Thursday in Punta Cana.
The heavy rain has triggered serious flash flooding in several areas of Puerto Rico. Multiple fallen trees, mudslides and flooding was reported in southwest Puerto Rico, according to local emergency management. River flooding has been recorded by USGS gauges in several locations in Puerto Rico.
Below is a look at what we know about the forecast for any potential U.S. and Caribbean impacts.
Florida, East Coast U.S. Concern
The NHC projected path below shows that this system could be located near or east of the Florida Peninsula by this weekend, then gradually northeastward along the East Coast.
However, this forecast is not nearly as straightforward as it might seem. According to weather.com, it's still too early to precisely determine this system's future track and intensity, with regard to the mainland U.S. and, therefore, potential impacts including rain, wind, and storm surge flooding.