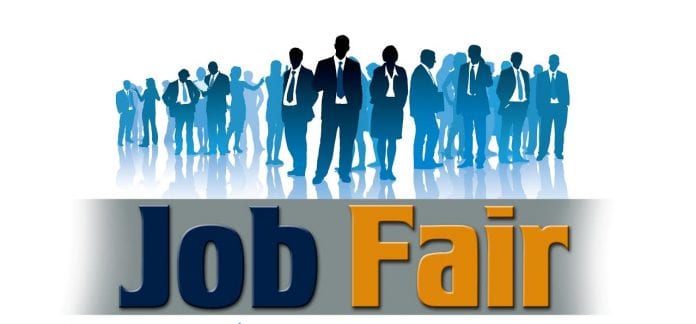 On Thursday, November 16, employers from sixty companies will be in Sunrise, Florida seeking qualified candidates to fill over  3,000 job vacancies. The companies will be participating in a job fair at the BB&T Center, from 10:00am to 2:00pm.
There is a wide range of companies seeking to fill jobs. These include the City of Sunrise, and the Seminole Tribe of Florida.  The complete group of companies are:
Aflac, Albion Staffing, Aldi, Anda Pharmaceutical, Atlantis University, Beyond and Above Flight Attendant School, Carl's Patio, Cellular Sales, Centerfield Media, Cintas, City Furniture, Colonial Life, Cross Country Home Services, Dentalplans.com, DeVry University, Dominos Pizza LLC, Ehrlich Pest Control, Empire Today, Fanatics Authentic, Florida Department of Health, Ft Lauderdale Police Department, IC Realtime, Interplex Sunbelt, JEG and Sons, Jiffy Lube, Medline Industries, NAPA Auto Parts, New York Life, Racetrac Petroleum, Rick Case Automotive,Royal Seas Cruises, SE Grocers / Winn-Dixie, Seminole Tribe of Florida, Sherwin Williams, State Securities Corp,Sutton Inspection Bureau, Teleperformance, The Academy, USA Parking System, Wilen Direct, Alorica,Careersource Broward, Custom Services LLC, Florida Panthers, Mass Mutual, Pollo Tropical, TriNet, U.S. Navy, Med Pro Distributors, City of Sunrise Human Resources, City of Sunrise Fire Rescue, City of Sunrise Police Department.
The openings being sought to be filled include:
Firefighter-paramedics, assistant city planners, assistant risk managers, bus drivers, director of field operations, employee relations for the City of Sunrise; account executives, box office associates, customer service, ice rink monitors, security officers, video producers and editors for The Florida Panthers; sales representatives, sales managers and warehouse operators for Anda Pharmaceuticals; managers, cashiers, customer service associates, department associates at Winn-Dixie; and high school teachers, IT positions, sales, cashiers, parking attendant, accounting, wait-staff and cooks at Seminole Tribe holdings.
The job fair is being organized by Job News USA. Profile of the companies and details of the job fair are available on the agencies website www.jobnewsusa.com/southflorida. Those interested in attending the job fair are encouraged to pre-register online with the company of their choice.
The BB&T Center is located at One Panther Pkwy. Sunrise, FL 33323, north of the Sawgrass Mall. Parking for the event is free.
For recent article on the BB&T Center in Sunrise, click the link: City of Sunrise TRAFFIC ADVISORY: at BB&T Center