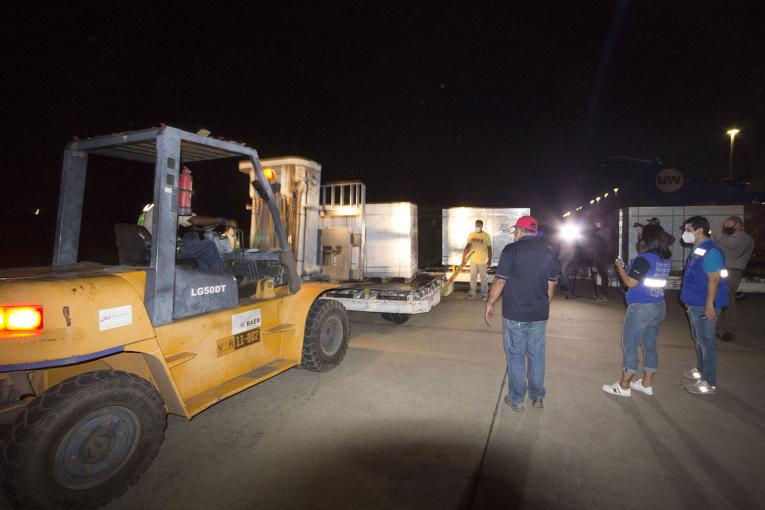 Venezuela has received its first shipment of COVID-19 vaccines under the COVAX Facility to cover approximately 20 percent of the population.
A shipment of 693,600 doses of the Chinese-made Sinovac, purchased using Venezuela's own resources and procured through the Pan American Health Organization (PAHO) Revolving Fund – the procurement agent for COVAX for the Region of the Americas –, arrived at the Simon Bolivar International Airport on Tuesday.
It is the first of a total of 12,068,000 doses that the country will receive via the COVAX mechanism.
The vaccines were produced by the Sinovac Biotech laboratory and are included on the WHO Emergency Use Listing which, PAHO assured, means they have been evaluated for quality and safety, and meet international standards for safety, efficacy, and manufacturing.
Recipients of the first doses will include priority groups as defined by the World Health Organization (WHO), a statement from PAHO said.
PAHO, UNICEF and other partners have also provided support to the Ministry of Popular Power for Health to plan for vaccine roll-out, including defining priority populations and vaccination strategies, as well as logistical aspects of vaccine deployment.
Venezuelan resources have also been utilized to maintain the cold chain and ensure that vaccines are stored correctly in regional and national refrigeration warehouses and transported to local vaccination points, PAHO said. Those resources have also been utilized to procure syringes and other supplies, including Personal Protective Equipment (PPE) for personnel involved in vaccination activities.
PAHO is also providing support to the country to train vaccinators in hard-to-reach communities, to strengthen information and communication systems, to implement a surveillance system for post-vaccination events, to design monitoring plans, and in risk communication.
CMC