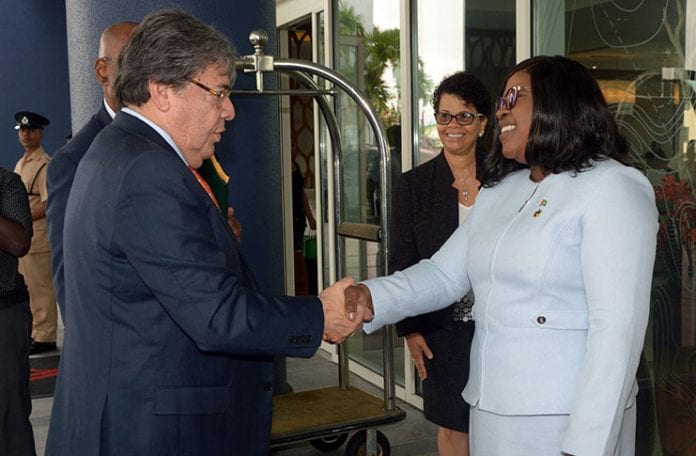 GEORGETOWN, Guyana, CMC – Colombia has indicated a willingness to re-open its embassy in Guyana more than two decades after its closure.
Colombia's Foreign Affairs Minister, Carlos Garcia, says Bogota is looking to re-establish a diplomatic presence in Georgetown.
"The reason of my visit is to deepen and strengthen bilateral relationship and of course that aim goes to the opening of the embassy in this country," Garcia said following a meeting with Foreign Minister Dr. Karen Cummings.
No clear date
But he gave no indication as to when the embassy could re-open. In 2017, Guyana and Colombia signed an `Agreement on Mutual Exemption of Visas for Holders of Ordinary Passports', where they agreed that there would be visa free travel between the two states.
A government statement issued following the talks between the two foreign ministers, noted that they had discussed border security and a language program.
Cummings said she was pleased that Guyana and Colombia were continuing to strengthen ties in areas which will bring great benefit to both countries.
"I'm very happy that we would have established ties with Colombia since 1970 and since that time we have continued to have cooperation; a joint commission which we have to resuscitate," she said, adding that the discussions will also be advanced on technical and security cooperation and public service training.
Garcia said he would continue talks which started with his predecessor, María Holguín, on border security.