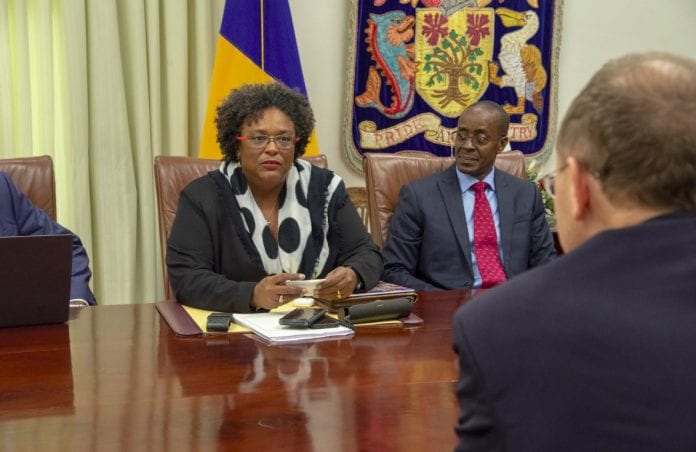 Barbados and the International Monetary Fund (IMF) have reached an agreement that will see the country being given access to almost US$300 million to support a homegrown program aimed at helping the country out of its economic troubles.
48-month Extended Facility
Prime Minister Mia Mottley and Deputy Division Chief of the Caribbean II Division of the IMF, Bert van Selm, made the announcement of the 48-month Extended Fund Facility during a joint media briefing on Friday, following discussions on financial support for the Barbados Economic Recovery and Transformation (BERT) plan.
The agreement will have to be officially approved by the IMF Executive Board, which will consider it early next month.
"I am pleased to announce that, in support of the Barbadian authorities' economic reform program, the IMF team and the government of Barbados have reached staff-level agreement on a 48-months Extended Fund Facility, with access of SDR 208 million (equivalent to 220 per cent of quota, or about US$290 million). If approved by the IMF Executive Board, SDR 35 million (about US$49 million) would be immediately available," said Van Selm, who led the IMF staff mission to Barbados from August 30 to September 7.
Steep decline in international reserves
He stressed the urgency of Barbados getting financial assistance, noting that in the last decade, the economy has been caught in a cycle of low growth, widening fiscal deficits and increasing debt. He also highlighted that international reserves have dwindled to US$240 million, well below adequate levels, while central government debt has become unsustainable.
Prime Minister Mottley told the media that protecting the value of the Barbados dollar was a crucial part of the discussions on reaching an agreement with the IMF.
Mottley stressed that Barbados must use this period to retool, empower, retrain and enfranchise its people. She said a country could not spend 68 cents in every dollar of revenue that it earned in debt servicing and explained that the restructuring of the debt was a key component of the BERT Program.