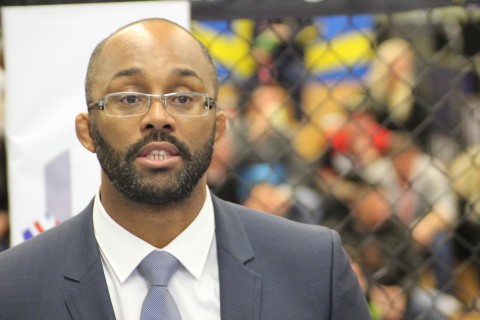 The Bahamas seeks joins the mixed martial arts international governing body in an effort to gain legitimacy as the sport gains traction on the island.
IMMAF President, Kerrith Brown, visited the capital of the Bahamas for an on a site tour. During this visit he met with stakeholders and  checked out the local state of the sport.
"Our role is to get new countries under our affiliation and our job is to be the main governing body globally. We currently have 53 international governing bodies and we are growing at 23 per cent, so by the end of this year we look to be at about 70 international federations. This is probably the fastest growing sport in the world at the moment," Brown said.
IMMAF states that the purpose of the organization is to further the development and recognition of the sport of mixed martial arts further enabling international competition through the organization of national MMA federations around the world.
Brown, a former Olympic bronze medallist for the United Kingdom in judo, has served as president of the IMMAF since June 2015. "We want to make sure that we develop a governing body to stand alongside the likes of FIFA, IAAF, FIBA and other major governing bodies of various sports. With a new sport you will always get an influx of youngsters coming through and we want to build that and we look forward to the youth engagement. For the Bahamas I think it's a massive opportunity. We have to make sure there is development for the athletes moving forward and it shows the global reach we hope to attain," he said.
Dr. Kent Bazard of  the Bahamas Wushu/Sanda Association and founder of the BOMAC fight series believes the sport of MMA is growing all over the world and has taken off in the Bahamas as well.
"The popularity of the sport is the highest it has ever been. We have had a lot of new members since we have started hosting events," said Bazard. "There is a lot more awareness now and we also have an increased fanbase. To provide these fighters with this opportunity is something that rarely happens with Bahamian athletes and I'm honoured to help and facilitate these new opportunities for them."
BOMAC is set to host "BOMAC Cage Fights 4: Caribbean All-Stars," on July 30.