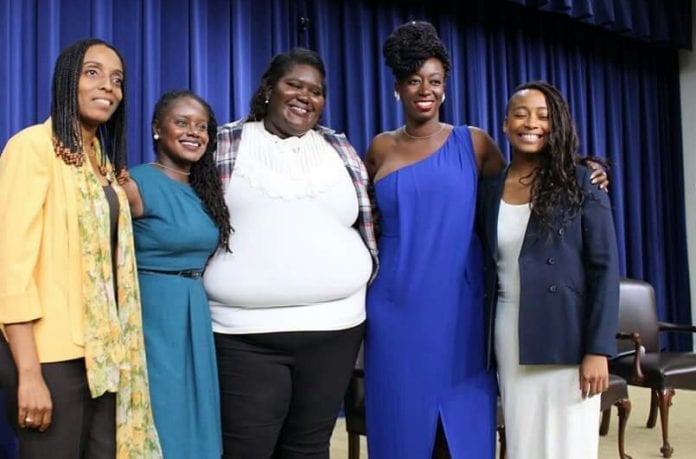 Caribbean Millennials speak out at the White House
The future of the Diaspora community marked the major focus of this past Caribbean-American Legislative week in Washington D.C., as Caribbean Millennial delegates advocated for the next generation.
The White House "is very interested in the activities of the millennials," says Roxanne Valies, South Florida board member of the Institute of Caribbean Studies (ICS), which organized the annual Legislative Week. With Millennials making up 25 percent of the Caribbean-American population, its was critical for the ICS, says Valies, for this demographic "to participate in a meaningful way to elevate the engagement on the 10th year anniversary of the proclamation and celebration of June as Caribbean-American Heritage month." 
A dozen millennial delegates met with Jamaican-American White House Chief Usher, Angella Reid, and other administration staff. The young representatives were particularly curious about possible opportunities available to them in White House programs, and were not reluctant to inquire how to access and grasp these opportunities. Reid explained that there were several opportunities including White House Fellowships and the White House Internship program. Though the application process is very competitive, Reid encouraged the Caribbean-Americans to apply. "The door is open to you, the experience is tremendous, and you are encouraged to grasp the opportunity," Reid said.
Serving as moderator for the session, Valies said the meeting offered "a pragmatic opportunity for the White House Administration to share with us ways in which we can help the administration succeed, and how we impact this nation as Americans."
The millennial representatives also spoke in special "Caribbean American Millennials" panel, highlighting to fellow delegates issues particularly pertaining to the next generation. Panelists included Haitian-American activist and Policy Director for the Florida Immigrant Coalition, Francesca Menes, Haitian-American Manager at Google's Research Program Nancy Douyon, Jamaican-American PhD Candidate in Public Policy at George Mason University, Karelle Samuda, and Antiguan/Jamaican film-maker Sade Clacken Joseph, who is part of the production team for ABC Television popular daytime show "The View."
"These four Caribbean-American ladies on the panel are making a profound impact on the world," said Valies. "As leaders, we need to understand and include the youth in our problem solving paradigm, not just as rhetoric, but because they have valuable insights, experiences, and work-styles to contribute. We are not to talk over them and tell them what to do, but to make them partners in the discourse. Only then will we succeed."
The weeklong events then closed with music, as "The Voice" contestant, young Jamaican singer Anita Antoinette, also joined veteran Caribbean artists in the special performance at the White House, including soca artist Machal Montano and jazz trumpeter Etienne Charles, both of Trinidad and Tobago, Haitian songwriter Emeline Michel and Jamaican new gospel artist Marion Hall (formerly Lady Saw).