DJ gets warm reception at Woman's Day concert
Women's rights advocacy groups were up in arms when the announcement was made that Dancehall DJ, Bounty Killa, would be included in the line-up of a concert organized to highlight the evils of gender-based violence on International Women's Day.
The angry women were of the opinion that the artiste, who had been charged in 2015 for beating up his girlfriend with a hammer, was the wrong candidate to perform at such an event and went public, via social and traditional media, calling for his removal from the roster.
The charge against the artiste who uses the moniker, 'The Warlord', were subsequently dropped.
But the Ministry of Gender Affairs, who had organized the event held at the Emancipation Park in Kingston, Jamaica, stuck to their guns. Bounty Killer, whose real name is Rodney Pryce, would be allowed to strut his stuff.
The artiste was in his element when he was introduced to the audience and they lapped it up. He pleaded with Jamaicans to 'hammer down' domestic violence
"I have been affected by violence, I have been affected by gender violence, I have been affected by domestic violence, I have been affected by violence in general as I got shot when I was 16-years-old, so anything against violence I can't be silent," Bounty Killer said as he reeled off his popular lyrics.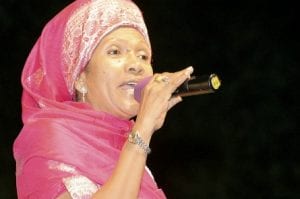 "I am here trying to make a step in the right direction and what hurts me this initiative is for change and I had a past that needs to be changed and I am making a bold step to change but there are some other people, who say they want change but fighting my change, wonder if them want a pocket change," added Bounty to loud cheers.
"I have a testimony to give the youth them of this country, who look up to me who idolize me or who want to be like me it is not everything about me is all perfect and I know I have flaws but the greatest thing I learn from them and I am at a place where I am much better," he added.
Marcia Griffiths, Judy Mowatt,  Carlene Davis, Queen Ifrica, Tarrus Riley and Tony Rebel were some of the other performers who entertained on Wednesday night.