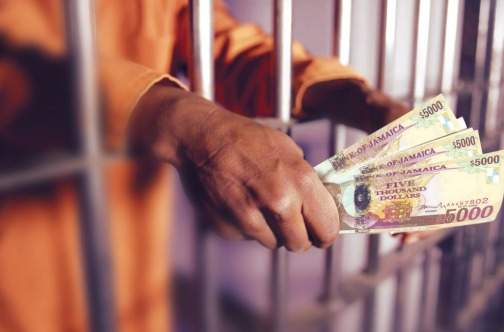 While the Jamaican government and Jamaicans generally deserve commendation for the great job in controlling the COVID-19 pandemic in that country, they are failing to control another devastating virus – public corruption.
In recent weeks, news from Jamaica has reported acts of corruption mostly based on nepotism and cronyism, involving senior government ministers, parish councilors, mayors, government and opposition members of parliament, members of government appointed boards, and executives of government agencies.
A recent report indicated the cost of corruption to the Jamaican economy is costing the economy 5 percent of GDP or an estimated US$738 million annually.
Another worrisome data is the Transparency International (TI) Corruption Perceptions Index (CPI) has ranked Jamaica highly among the more corrupt Caribbean countries in recent years. In 2018, Jamaica was ranked 70 worst corrupt country globally, and 8th in the Caribbean. Barbados was ranked as the least corrupt Caribbean nation.
In 2019 as Jamaica became embroiled in the Petrojam scandal it's rank worsened to 74 out of 198 nations. Since than incidences of public corruption has widened involving the dismissal of a cabinet minister and public officials involved with corruption at the Caribbean Maritime University, and more recently the removal of portfolio responsibilities of another government minister involved in a scandal related to lands owned by the Ministry of Agriculture. Another minister, usually commended for his ministerial responsibilities, came under scrutiny last week for alleged corruption in his ministry. Also making the news for alleged corruption was a popular ranking member of the opposition People's National Party (PNP).
Most of these corrupt practices involved offering jobs and/or plush government contracts to close and often underqualified relatives, paramours, friends; and party political supporters. Several contracts have been offered outside of the protocols established for offering government contracts. A recent report from the Jamaican auditor general indicated contracts offered to build a classroom at the Caribbean Maritime University offered to a Florida based company owned and operated by member of the Jamaican diaspora who did not tender a bid for the said contract within the set deadline.
It's of significant concern that most Jamaicans seem to be taking public corruption as normal and acceptable. There are reports of a recent Jamaican poll that revealed the majority of people don't care about corruption. This is despite the TI Global Corruption Barometer finding some 85 percent of Jamaicans regard the two major political parties as corrupt, and over 70 percent are currently more aware of corruption.
Of course, public corruption is not peculiar to Jamaica or other Caribbean counties. It's a pandemic-like international problem affecting many global communities and economies, but it seems more prevalent in developing countries, especially some African countries.
Analysis of corruption tends to agree corruption is born out of poverty, and greed among public officials and the already wealthy.
The poor, most struggling to provide for their household, tend to be willing to accept money for serving others corruptly, or willing, paradoxically, to pay corruptly charged fees for special privileges and benefits for their family members.
The wealthy in developing countries, seem to be persistent in ascending on the social-economic ladder competing with members of their class for bigger, more luxurious homes in choice neighborhoods, and drive the latest model expensive automobiles.
Visitors to Jamaica, for example, in recent times, have returned and heard to comment on the boom of expensive residential houses, apartment and condominiums in Jamaica, and the number of high-end automobiles being driven by some people. These comments are usually accompanied by the question. "How can Jamaicans afford these residences and these vehicles?"
The answer seems to be through money acquired by corrupt means. Some Jamaicans tend to take it for granted "that everything in Jamaica has a price." This price includes paying insiders within government agencies special "under-the counter fees" for a variety services including getting licenses, documents, loans, jobs, contracts, placement in choice schools, and even bribing police officers not to issue tickets for traffic violations.
The practice of corruption worsens when those elected by the people to effectively manage public funds deliberately use these funds to brazenly compensate their romantic partners, family members, and close associates.
This corruption cannot be allowed to prevail. Jamaica does have a public body – The Integrity Commission charged with calling out and reducing public corruption. Obviously, the terms of the commission needs to be strengthened to enable it to be more effective in its role.
But what's most needed is a government who places elimination of public corruption at the forefront of its priorities. Unless government ministers, members of parliament and public officials are swiftly, aggressively penalized, including stiff prison sentences, for misusing public funds, the general public will continue taking corruption as a way of life.
Public corruption is a very close relative to crime. If the incumbent, or succeeding Jamaican governments, doesn't take aggressive measures to eliminate public corruption, how can they succeed in controlling crime? If Barbados, The Bahamas and St. Vincent and the Grenadines can rank high among Caribbean countries with the least public corruption, why can't Jamaica? It's full time for a change.