It was sweet, sweet victory for cooks and foodies alike at the recent Grace Jamaican Jerk Festival, at Markham Park in Sunrise. Stars chefs and celebrity cooks alike faced off in the festival's three tense competitions with delicious results.
First up at the stove was the 2015 Publix Cook-off, where five local star chefs vied for the coveted golden Dutch Pot trophy for the best three course meal, including appetizer, salad and entre. In the end, Chef David Stample wooed judges Chef Duprat, Chef Chad Cherry, Chef Keith Lorren and Local 10 Weekend Anchor Todd Tongen with the sheer variety of his jerk spice applications. Jerk never looked so good in his winning course, which included black eye pea couscous salad with jerk shrimp, a trio of jerk seafood including smoked jerk salmon and avocado cream crostata, jerk crab cakes and jerk calamari salad, and a hefty entre of Jerk tamarin chicken breast with mofongo and a roasted jerk veggie stack. Second place went to Chef Freddi Famble, while third place went to Chek James Lubin.
For this year's Publix Celebrity quick Fire Challenge, dubbed "The Battle of the Beauties," Miss Universe Jamaica 2014, Kaci Fennell, and Miss Jamaica World 2008, Brittany Lyons battled for the best beef entre in 30 minutes, only allowed to use ingredients selected beforehand by star local Jamaican Chef Irie Spice. The two former beauty queens and culinary mavens were required to incorporate dill pickles and beloved Caribbean childhood ingredient, Foska Oats, in their dishes. And it was the self-declared foodie fanatic Fennell who napped the culinary crown with her delectable steak with tomato Foska Oats sauce.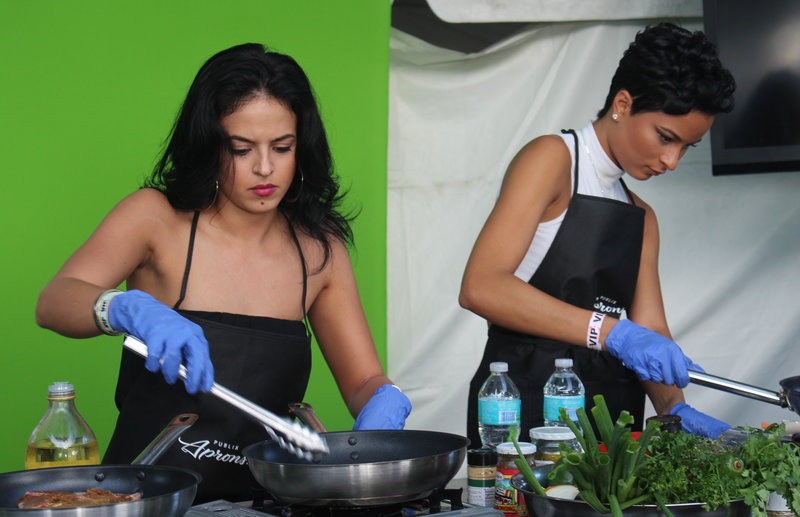 Not to be outdone, the Publix Celebrity Chef Throwdown was just as intense, as Haitian-born Bravo TV's Top Chef competitor, Chef Ron Duprat crossed knives and skillets with Pop-up Restaurant King of The Bahamas and 2014 Throwndown winner, Simeon Hall, Jr. Both were required to use Chinese pork sausage and the Caribbean classic Yummy Bun in their final plates. Though a tense (and scrumptious battle) Hall managed to once again to come out on top, holding on to his bragging rights through his sheer technical display of smoking, braising and jamming ingredients to perfection.
"This year has the best cooking competitions yet," says the Festival's cook-off organizer, June Minto. "We're thrilled to showcase so many Caribbean culinary talents and all that our region's unique ingredients can offer."