Add a sweet finish to the holiday season with these decadent Caribbean traditional drinks. Whether creamy, spicy, or unapologetically decadent, this is a perfect way to toast the end of 2015.
Ponche-de-crème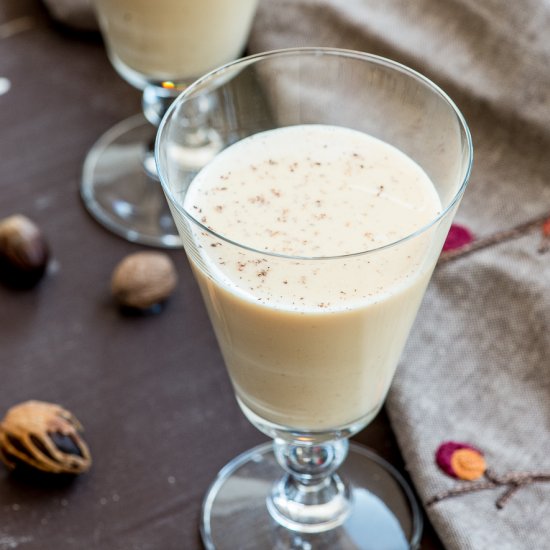 The holidays can't be complete for popular food blogger Chris De La Rosa of Caribbeanpot.com without a little touch of the Trini holiday classic, ponche-de-crème. Though the common 40 percent proof rum in the States will work just fine, Chris says he prefers "traditional way to make this is with strong 'over proof.'"
Ingredients
3 eggs
Peel of one lime
2 ½ c condensed milk
3 c evaporated milk
2 tsp ground nutmeg
1 tsp. cinnamon
1 tsp ground clove
1 tbsp. vanilla essence
2 tsp Angostura bitters
1 cup rum. (use more for a real "kick")
Instructions:
Crack the eggs into a mixing bowl, put in the lime peel and beat until fluffy. Remove lime peel, add evaporated milk, and mix thoroughly. Pour into the top pan of a double boiler and cook, stirring continuously until the mixture thickens and coat the back of a wooden spoon. Remove from the heat, pour into a mixing bowl and add all the other ingredients except the rum and bitters. Ensure that the mixture is thoroughly cooled then add in the rum and bitters and mix. Bottle immediately. Serve chilled or on ice. Store in the fridge.
Caribbeanpot.com
Jamaican Chocolate Tea
Though not traditionally an end-of-year holiday drink, who wouldn't want some chocolaty sweetness for the holidays. This traditional recipe (with a hint of cinnamon) from food blogger Lyn of LovelyPantry.com is the perfect way to warm up your holiday nights.
Ingredients
2 oz. Jamaican chocolate (1 chocolate ball), shredded or coarsely chopped
2 cups water
1 cinnamon leaf
1/8 tsp ground nutmeg
1/2 tsp vanilla
1/4 cup sweetened condensed milk
1/2 cup milk (optional)
Instructions
Grate or chop the chocolate finely to break it down so that it cooks faster. In a medium pot, add water, cinnamon leaf and chocolate and bring to a boil. Reduce heat and allow to simmer for about 20 minutes. Add salt, nutmeg, vanilla, milk and condensed milk. Stir to combine. Strain and sweeten with a little sugar if needed. Serve and enjoy hot!
Lovelypantry.com
Christmas Sorrel
Nothing is as bright and festival than traditional sorrel punch, rich with spices and a little rum. To preserve this recipe from Fay of cooklikeajamaican.com, Fay says to "store sorrel drink in the fridge or cold cellar, to prevent it from fermenting."
Ingredients
2 ½ cups dried sorrel
3 oz. fresh ginger, grated
5 pimento berries
10 cups boiling water
2 cups sugar
2 Tbsp. lemon juice
¾ cup white rum
Instructions:
Place sorrel, ginger and pimento berries in a large pot or mixing bowl. Pour boiling water over the ingredients; stir and place in fridge overnight to steep. Using a large strainer, pour the steeped liquid into another container; use a spoon to squeeze more liquid out of the sorrel. Add sugar, lemon juice and rum to sorrel and stir until sugar has dissolved. Enjoy over ice.