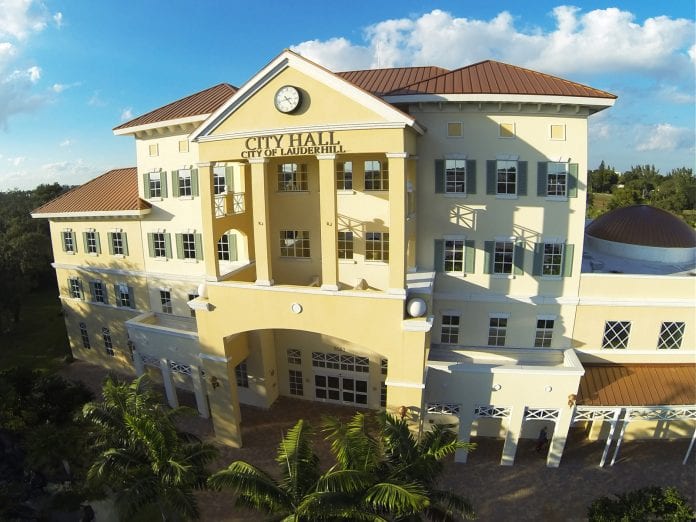 City of Lauderhill officials are warning residents that COVID-19 still remains a threat in the community, while they closely monitor the effects of the virus.
After the recent COVID-19 scare, which saw 20 city employees contracting the virus, all public buildings were shut down and remain closed the public.
Administrative Office hours are Virtual and employees are currently telecommuting, working flexible schedules, and staggering shifts to provide all City services virtually.  All City buildings have sneeze guards, COVID-19 Guidelines signage, and hand sanitation stations. Temperature checks and face coverings are mandatory for staff to enter City buildings. Facial coverings, gloves and hand sanitizer have been provided to all employees while facilities are continuously being sanitized. The City is also offering all employees free COVID-19 testing.
City Hall and all Administrative Offices are open virtually Monday through Thursday from 7:30 AM to 6:00 PM. Staff is available to take phone calls during that time. Call 954-739-0100 for any Department located in City Hall. Call Police (non-emergency) at 954-497-4700, Fire at 954-730-2950, and Parks at 954-730-3080. Log on to lauderhill-fl.gov for more information on Virtual City Services or to contact us via e-mail.
Water Bills can be paid online at lauderhill-fl.gov/onlinebillpay or at TD Bank on Oakland Park Blvd. and Inverrary Blvd. West. You can pay over the phone by calling 954-739-0100 (Option #1). The Utility Drop box in front of City Hall is also open for those who do not need a receipt.
Building Permits are still being accepted. Interior and exterior Commercial inspections are ongoing. Residential inspections are limited, however when possible, technological accommodations are being utilized to aid in completing the inspections. Please call 954-739-0100 (Option #3) for more information.
All City Parks are open for passive use only. Park hours of operation are still Sunrise to Sunset and all buildings will remain closed. Outdoor exercise and playground equipment remain closed. Tennis, basketball and racquetball courts are open with restrictions.
Lauderhill Food Distribution
Joy's Roti Delight, in conjunction with Commissioner Richard Campbell, will host a Drive Thru Food Distribution on Sunday, July 12, 2020 at 9:00 AM. A free box of locally grown produce from USDA farmers will be given out to each car on a first come, first serve basis. No walk-ups are permitted and it is open to the public. The event location is 1205 NW 40 Avenue (441), Lauderhill, FL 33313.
COVID-19 Testing Location in Lauderhill
The Lauderhill Sports Park is currently a testing location provided by the Florida Department of Emergency Management. This is a walk-up location and no prescription is necessary for testing. The hours of operation are from 9:00 AM to 5:00 PM, every day of the week through July 26.