CNW Talk Up takes it to the streets! Every week, the Caribbean National Weekly highlights issues of interest to the Caribbean American community. This week's topic on Carnival 2017 relates to attendees and participants in the Miami Broward One Carnival held at the Miami-Dade County Fairgrounds on October 8th. #carnival2017 #miamicarnival
This week's question: What made you decide to participate in Carnival 2017?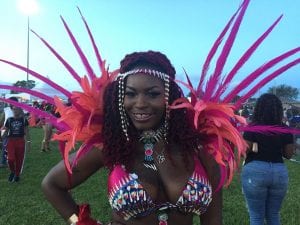 Adeshola:  Trinidadian-American/Brooklyn, NY – (Ramajay) I do it for the culture.  My Mom's from Trinidad and she always participates in Carnival. This was my first year doing it in Miami. I love Miami, so I came to celebrate.  I've done Caribana and Barbados carnival. This one was awesome, the weather is great, the people are great, there's a lot of Caribbean community here in Miami. Everybody's from Brooklyn here!
Priya:  Belize/Plantation  – (Generation X) This is my first year in Carnival itself, jumping with a band. I chose Gen X, the Music section. I've been to Carnival many years with my family and I thought it was a great idea for me to finally jump and experience Carnival. I've been to Kiddie's Carnival, I've been to Miami Carnival before, but I've never jumped. So this is my first official Carnival and I have to say it was amazing. It definitely was worth it for me!
Nicole: Guyanese-American/West Palm Beach – (DJunction) I am a first generation born American. I participate every year. This is my 12th year in Carnival, I love being in Carnival, I love the spirit of Carnival, I love the culture of Carnival. I love Carnival. It was wonderful, I had a great time. I played with DJunction this year, my first time and I had a wonderful time. I usually play with One Island, but I had a beautiful time.
Sharmaine:  Guyana/Tampa – (Fun Generation) My family is Guyanese, my husband is Jamaican, and my father is Trinidadian. I love my culture and just being able to dress up and come out, and enjoy and show off what the Caribbean culture is all about, I was so down for it. This is my first time in probably 20 years, I played mas as a child and I haven't played as an adult, so I was just all for it this year. I'm with Fun Generation in the section Crave.
Kimberley:  Jamaica/Fort Lauderdale – (Mascot International, Full Moon section) Honestly, it's actually my first time jumping in Carnival. I got the opportunity from a friend of mine, she designed all of this and she said "I want you to model for my band," and then she said "would you like to jump in Carnival this year?" and I'm like, "Yes" because I never jump in Carnival before, so that is how I ended up getting a costume. I went to Carnival in Jamaica only once. This is really a good experience.
Quimey:  Trinidadian-Uruguayan/Miami – It's fun, I like the environment; everyone is dancing. I feel very comfortable. This is my first time. I've been to somewhat of a Carnival, not like this, but something like this. I'm Hispanic and Trinidadian, from Uruguay and Trinidad. I've never even been to Trinidad, but I will now! All of our friends go to Carnival. I didn't play in a band, but I dressed up because I like to stand out and this is what I like to wear.
Krystal:  Guyanese-Cuban/Miami – I love how everybody just dresses up and comes out, has a good time, and nobody is judging anybody. We're just here for a great experience, to be a part of Carnival. It's something that we've been doing for generations and it's amazing. This is my first time. I go to a lot of Carnival events that have to do with soca, dancehall, reggae; I'm always there so it only makes sense to come to Carnival 2017, to be a part of the moment.  I'm not with a band, I dressed up because it's fun; you have to play the part.
Mathieu:  American/Atlanta – (Generation X) My wife is from Trinidad so we decided to come out. Her whole family is out here, friends, everything. I did Carnival once before like three years ago, here. So I'm a sophomore. This year was awesome, I love it and I want to do it every year. I am with the group Generation X in the section Abstract.
Brianna:  Jamaican-American/Pembroke Pines – I attended Carnival for the first time this year from the persuasion of my best friend and cousins, and it was one of the best events I have ever attended. I never want to miss another one. My favorite part was walking behind the trucks and looking at all the different costumes. I didn't play mas because I couldn't afford it at the time, but I definitely want to next year.
To find out more about Carnival 2017, visit their website: http://miamibrowardcarnival.com/