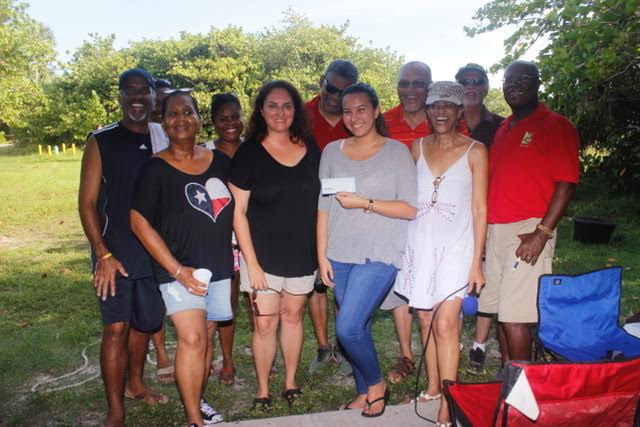 Transforming America Through Interaction (TATI), Inc. was formed after the tragic passing of 19-year old Tatiana ("Tati") Renèe McIntosh in 2007.
This year, the 10th anniversary of her passing, the non-profit organization continues to serve youth from the Caribbean-American community by providing safety awareness, scholarship opportunities and a summer mentorship program while promoting Caribbean-American culture.
TATI, Inc. held its annual Family Fun Picnic on Dania Beach last weekend at the Dr. Von D. Mizell and Eula Johnson Park (formerly John U. Lloyd Beach State Park). The event draws a truly diverse crowd, and this recent gathering was no exception.
"This is a fitting location," says founder, Tanya Ragbeer, mother of Tatiana, who was there with her husband Cary and youngest daughter Katrina. "The history of this location is so rich. It opened as a segregated beach over 30 years ago, and was renamed last year after the first blacks to desegregate the beach. It is a fitting place, to not only celebrate our Caribbean heritage, as we are a colorful people, but also to hopefully understand and honor what transpired here."
The annual Caribbean-American Heritage Youth Essay Competition prize was awarded to Pompano Beach High School 11th grader, Rebecca Yap.
"I basically wrote in my essay that I wanted to be in Jamaica in the 1960s. My dad moved to America from Kingston when he was 12, so Jamaica, my culture, is a big part of my life. I grew up listening to reggae and Bob Marley, and that was right after independence and was a great time for the island socially and economically," she said.
The event had music by popular DJ Mark Swaby, games, prizes and surprises.
Surprise guest Stephen "Cat" Coore of Third World came out to chill, and had a special message for Caribbean-American youth.
"Everyone just have to know sey we are who we are, and just keep it that way; don't try to be anybody else."
Fitting statement, as they celebrated Caribbean-American Heritage Month and Tatiana, who was passionate about uplifting our youth, and for uniting Caribbean countries in Florida.
Click this link to view previous story on TATI, Inc.:  Local charity TATI honors daughter's memory