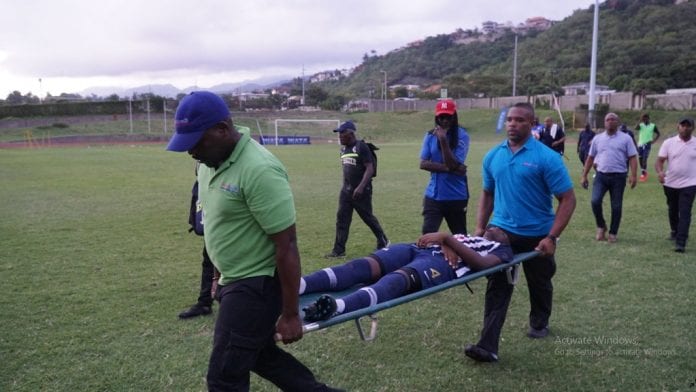 KINGSTON, Jamaica – During an ISSA/Digicel Manning Cup match in Kingston on Monday, several players had to be taken to the hospital after a bolt of lightning struck the field during the match.
In the 84th minute of the match between Jamaica College (JC) and Wolmer's Boys, an amateur video shows three players falling to the ground after a flash of lightning.
Two of the players, Terrence Francis of JC and Dwayne Allen of Wolmer's were taken to the University Hospital of the West Indies. Francis, the more severely affected of the two, was carried off the field on a stretcher as he did not respond to treatment on the field. Several other players also complained of eye pain following the lightning strike. ISSA Sports revealed that all the students were checked and tested by doctors following the match.
While the Wolmer's student was released from hospital, JC's Head Coach Davion Ferguson confirmed that a second JC player, Nickache Murray later complained of chest pains and was also taken to the hospital.
Murray was released from the hospital on Tuesday while Francis regained consciousness but was unable to talk, even as he indicated feeling pain on his left side.
Before the match was called off by referee Karl Tyrell, Wolmer's led the match 2-1. Football organizers, referees, and coaches have since begun to take inclement weather more seriously to protect the Jamaican students. During another football match on September 17 between St. George's College and Calabar High School, the game was called off at the half-time interval because of threats posed by lightning accompanied by heavy rain.
Florida is the "Lightning Capital" of the United States
With a very active hurricane season in the Atlantic so far, Floridians should especially be more cautious of thunderstorms. The National Weather Service says Florida is the lightning capital of the United States, with more people dying from strikes in the state each year than any other state. And more specifically, Central Florida, from Tampa to Titusville, is called the "Lightning Alley" of the state.
So far in 2019, eight people have been killed by lightning in the United States. In June, a Florida motorcyclist was struck while riding on I-95, causing a fatal crash. The NWS says that the geographical location of Florida, being surrounded by warm water, combined with the shape of Florida's peninsula is the number one reason thunderstorms develop so easily in the state. The weather service also says that the summer months are the worst for lightning strikes because of the hurricane season, which begins in June.
The NWS warns that if you can hear thunder, you have the potential of being struck by lightning. Lightning can strike even if it is as far away as 10 miles. If you are indoors during a thunderstorm, stay away from all electrical appliances and windows. If you are outdoors during a thunderstorm, avoid all metal objects, water, trees and open spaces.