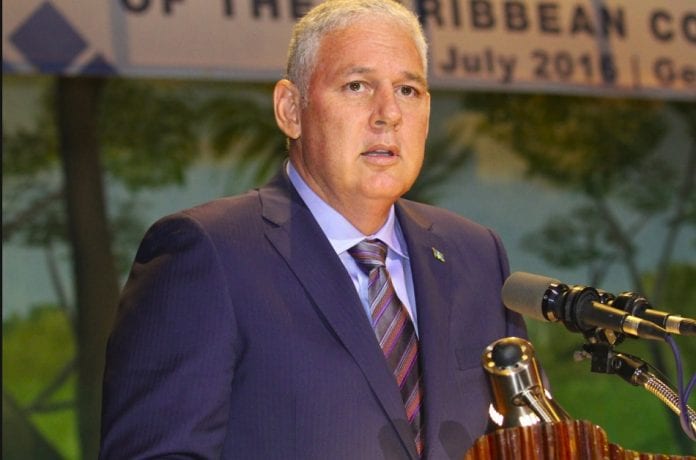 Following the recent killing of a St. Lucian national in Dallas, Texas, the Prime Minister of St. Lucia, Allen Chastanet on Monday told reporters in Dallas that a lot of immigrants "entering the United States were fearful for their lives." and he hopes the justice system in the country "takes the right course."
Fearful of America
"Unfortunately, the news coming out of the States in recent years have not been very good. With the immigration debate taking place in the US I think it is understandable that a lot of immigrants are fearful of America."
During a news conference on Monday, Chastanet when asked whether St. Lucians regard the United States as a safe place, he replied "I don't want to cloud that with this issue. This issue is about family," Chastanet told the news conference, called by the lawyers representing the relative of 26-year-old Botham Shem Jean, who was shot and killed by a Dallas police officer, who allegedly entered his apartment that she believed was her own.
Police officer gets bail
Amber Guyger, 30, a four-year veteran with the Dallas Police Department, allegedly went into the wrong apartment in her building last Thursday night and fatally shot Jean. She was arrested in Kaufman County and booked into the Kaufman County Jail, the Texas Rangers said in a statement. Guyger was released Sunday night on US$300,000 bail.
Jean attended Harding University, a private Christian institution in Arkansas where he was involved in the group – the Good News Singers and the campus ministry. He went on to work for PricewaterhouseCoopers as an associate in its risk assurance department.
Sadness and anger in St. Lucia
Chastanet told reporters St. Lucia was 'extremely proud" of Jean and people on the island now had "two very strong emotions, one of great sadness ….and the other is one of anger. To think that a young man could be in his apartment and the possibility could be that somebody could come to his door and he ends up being dead. I know for the family there are also mixed emotions.
"One trying to grief and be emotional about the loss of their son but also being forced into the situation of having to want justice. I don't think any of us would truly understand the conflict of those emotions because you never think you are praying for your son as much as you could and at the same time fighting to see his justice."
Chastanet, who was flanked by the lawyers, as well as Jean's relatives, including his mother, Alison Jean, said his presence in the US is in support of the family.
He said he was encouraged by the words of the District Attorney and certainly St. Lucia's diplomatic mission that they "would be working behind the scenes to give the family as much support as was possible with the hope that  the justice system takes the right course and Botham's name is redeemed."