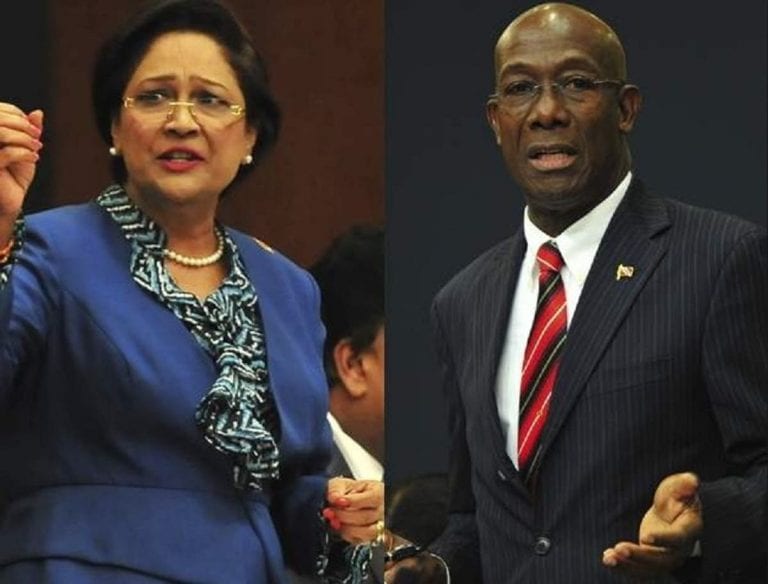 PORT OF SPAIN, Trinidad – Prime Minister Dr. Keith Rowley has called on the main opposition United National Congress (UNC) to immediately withdraw a political advertisement showing that a black person being handed a bunch of bananas after complaining about the performance of the government.
"I know what the yellow bananas mean. It is monkeys they give bananas. All over the world footballers walk off the field when they start to make monkey chants, but in the UNC advertisement, black people hungry in Trinidad and Tobago and you feed the monkeys bananas," Rowley told supporters of his ruling People's National Movement (PNM) on Thursday night.
"You could go to hell with that. We are better than that in Trinidad and Tobago. If the PNM has one legacy that we are going to defend to the death is that we have encouraged inter-racial solidarity in this country and we will not allow Kamla Persad Bissessar and her minnows to threaten it. I demand that those ads be removed," Rowley said.
Rowley heads the Afro-based PNM, while Persad Bissessar, heads the Indo-based UNC and Rowley told supporters that this is not the first time that the Opposition leader has reverted to race during the campaign for the August 10 general election.
Last month, she vehemently denied referring to Rowley as "this black man' insisting that she had used the word "blank'.
"So she intended all along to use race, dog whistle and racial epithets as part of her political armoury. So today, she reached now to be humiliating black people in this country by picking up destitute black looking people and portraying them in the worst most possible way in a political advertisement.
"Tonight I want to say to Mrs Kamla Persad Bissessar and the UNC, I am a proud black man in this country and you have offended me and you have insulted all black people in this country by that caricature in your advertisement."
But speaking at her party's final campaign ahead of the poll, a sombre sounding Persad Bissessar said that she has always been about promoting unity and issued something of an apology to the country.
"We are humans and we all make mistakes that we regret and wish we could change.
"I feel sorry, I feel hurt, I feel pain when I see people affected by crime, when I see jobs being lost…it may be unbelievable to some but I do care and love all of you.
'To those who have been hurt by any decision I have made, I apologise," she told supporters.
CMC