Oliver Mair and Mia Mottley are CNW's 2020 Persons of the Year. Oliver Mair, who is
Jamaican Consul General to the Southern United States, and Mia Mottley,
Prime Minister of Barbados,
have shown exemplary courage or made significant achievements over the course of the year. Given the insurmountable challenges the year 2020 posed, many public figures, celebrities, and ordinary individuals have shown incredible courage and resolve in addressing the problems and are worthy of recognition. 
Oliver Mair
The year 2020 has been particularly challenging for Jamaican Americans, many of who have been unable to visit the homeland because of the coronavirus pandemic. Luckily, through the dedicated efforts of Jamaica's Consul General to Southern USA Oliver Mair, Jamaicans living in the United States have managed to stay connected to their roots.
At the height of the COVID-19 pandemic in March, Jamaica closed their borders to visitors, leaving many Jamaican residents and those living in the diaspora that visit frequently locked out of the island. At a time when the Jamaica Consulate in Miami was closed because of the pandemic, Mair and his consulate staff nonetheless worked extensively with Jamaica's Ambassador to the United States Audrey Marks to ensure that nationals stuck in the United States could get visa waivers while they awaited the reopening of the borders.
Not only was Mair instrumental in getting visa waivers, but he orchestrated measures to house Jamaican visitors to Florida and other regions in the U.S., who were stranded because of the border closure. He didn't wilt as pressure mounted. When the first flight became available to transport them home when the border was opened, Mair was on the aircraft to greet and motivate the passengers.
When Jamaica reopened its borders and economy in June, Consul General Mair was also on hand and ready to help Jamaicans recover. From assisting with donations of food and essential items to promoting the safe reopening of the tourism industry and even adopting and pledging millions to the Port Antonio Health Center in Jamaica, Mair has made Jamaicans at home well aware that they can always count on the diaspora for support.
And in Florida, his efforts to connect Jamaicans to their home have also been noted. This year, Mair, popularly referred to as the "roots consul general" because of his down-to-earth persona, staged a series of virtual events including a citizenship welcome ceremony and independence and Heroes Day celebrations so that those in America and elsewhere could still take part in the island's festivities.
One of his last major cultural projects of 2020 was the staging of the "Mek di Pickney Dem Smile" virtual concert to help raise funds to support the Jamaican Ministry of Education's "A Device for Every Child" initiative.
Mair assumed the role of consul general in September 2018, succeeding Franz Hall who left office in February of that year.
Senator Kamina Johnson-Smith, who made the appointment, said that Mair's wide experience in various industries "should serve him well as consul general, where such varied knowledge base, talents and expertise will be needed to continue, expand and deepen the important work of the Jamaican Consulate in Miami."
Read More: Consul General Oliver Mair to host Christmas Concert and Telethon to Aid Jamaican Students With Online Learning
Mair, an MBA graduate of Nova South Eastern University in South Florida, has extensive experience in sales and marketing, strategic planning, project management, public relations, and government-corporate relations.
He is a product of the Jamaican private sector, where he held several positions in a somewhat circuitous route. Leaving Campion College and Wolmer's High schools, he pursued a Bachelor of Arts degree in management studies and English literature at the University of the West Indies, Mona.
Read More: Consul General Oliver Mair among Caribbean Heritage Month Honorees
Graduating in 1992, he embarked on his career as an operations officer at Jamaica Broilers. A year later, he joined the staff of Air Jamaica, where he remained for the next 11 years, rising through the ranks from flight attendant/purser/in-flight supervisor to routes operations supervisor and ultimately, regional marketing manager of Jamaica and the Caribbean.
Leaving Air Jamaica in 2004, Mair returned to Jamaica Broilers, where he served first as a sales manager, and later as a marketing and sales manager. He resigned from this position in 2012 and took the bold decision to become an entrepreneur in 2013.
He founded his own company, Jamaica Finest Produce, which supplied agricultural produce to Jamaican hotels. He also served as a consultant for several projects, including to the Portland Jerk Festival, Jamaica Broilers Group – Fun In The Sun and applied his sales skills in real estate as a realtor for Coldwell Bankers Limited.
An all-rounder, Mair also applied his creative side to the theater. At Laugh It Off Productions, he served as producer and writer, and produced a 9-time Actor Boy nomination play, "Laff It Off," which had a successful 9-month run. He also enjoyed performing with the UWI Singers and the Jamaican Musical Theatre Company.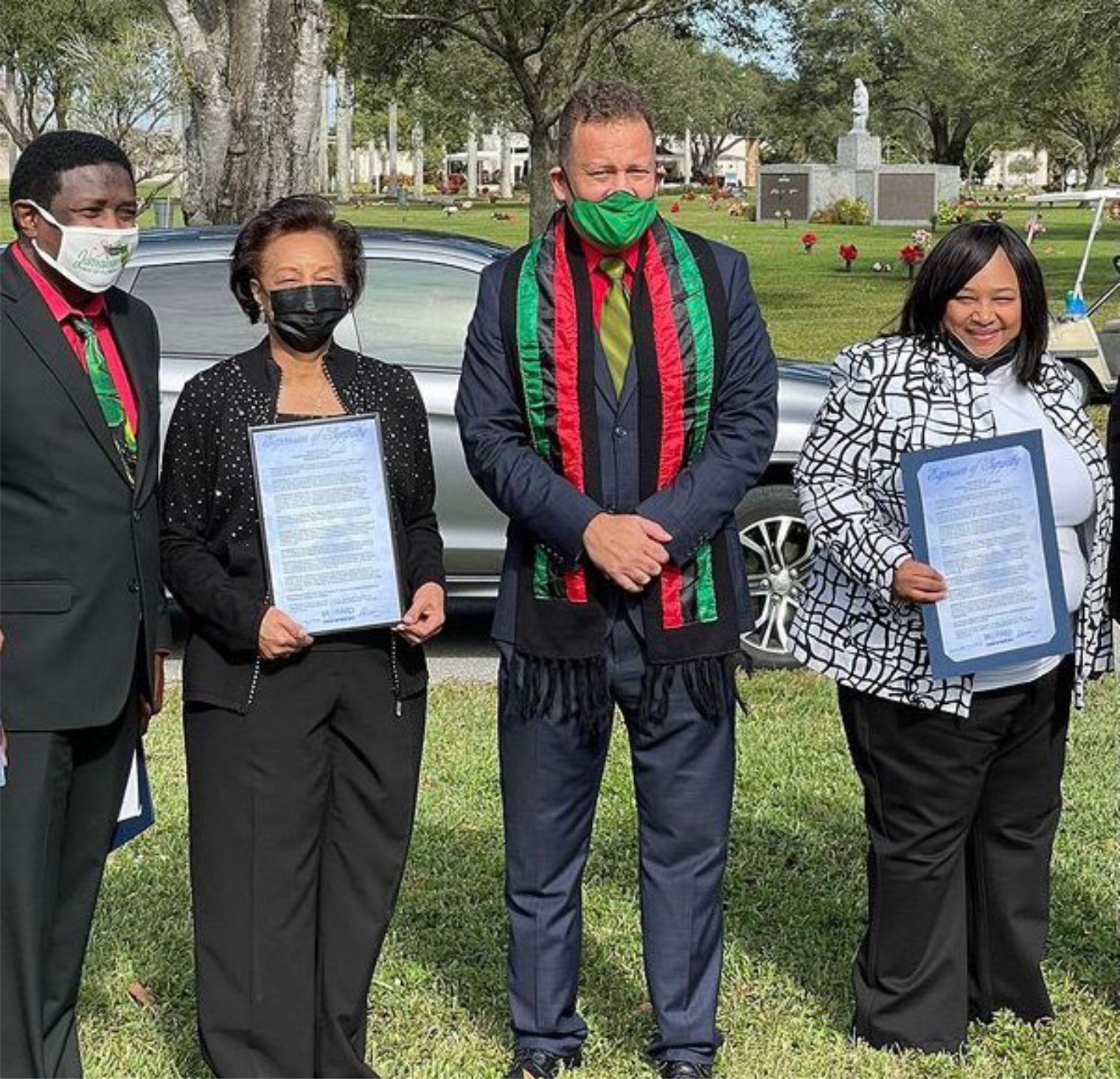 Mair is married to Tanya and they have one daughter. He previously stated that he does whatever he can to ensure that he never misses his two ladies' joint birthdays.
Although Mair has been in the CG chair for the past two years, the challenges brought on by the COVID-19 pandemic have deepened his involvement in Jamaica's foreign affairs and Mair has now become one of the most influential and dependable public figures in the Jamaican-American community.
Watch: Consul General Oliver Mair joins the Kids, Zia, Olivia-Ray, Jayden for Story Time.
In his Christmas and New Year's message, as 2020 closed, Mair offered hope to the community for 2021 with these words, "Storms do not last. And this too will pass. Let's continue to place peace over panic, and faith over fear. And this will take us through. As the Good Book says, 'now abideth faith, hope and love, and the greatest of these is love.' Let us continue to embrace a faith that we will overcome, hope for a brighter 2021, and let's express our love every day to families, friends, and loved ones."
Mia Mottley
Ever since leading the Barbados Labor Party (BLP) in 2018 to a historic political victory, winning over 70 percent of the popular vote, and all 30 seats in the Barbados legislature, Mia Amor Mottley, 55, that nation's first female prime minister, has performed as one of the Caribbean's strongest and most influential leaders. So much so, that she is gradually gaining the reputation as the "Iron Lady" of the Caribbean.
She began 2020 as the chair of the 15-member Caribbean membership organization CARICOM. Mottley soon expressed her no-nonsense attitude when in January she refused to have Barbados' foreign minister joined other Caribbean leaders in a meeting with U.S. Secretary of State Mike Pompeo. Not pleased that invitations were not extended to all the leaders of CARICOM, Mottley said, "As chairman of CARICOM, it is impossible for me to agree that my foreign minister should attend a meeting with anyone to which members of CARICOM are not invited. If some are invited and not all, then it is an attempt to divide this region."
As chairperson of CARICOM, and Barbados' prime minister, she has been a strong advocate for the Caribbean to pay more attention to the climate crisis. Mottley urged the Caribbean Development Bank and the public and private sectors in the region to be more proactive in collaborating to cope with the crisis. "I want to suggest that at this time when the climate crisis is doing its utmost best to create not citizens but refugees of Caribbean people that we have an obligation to do a few things now and well," she said.
Mottley, like other leaders in the Caribbean, was forced to cope with the dreadful impact of COVID-19 on Barbados and through her strong leadership enabled the country to maintain its infection and death rates among the lowest in the region.
Read More: Barbados' Prime Minister Mia Mottley Wards Off Strike by Security Workers
In June, she told the extraordinary Inter-Sessional Summit of the Organization of African, Caribbean and Pacific States (OACPS) the CARICOM grouping is vulnerable to the impact of COVID-19 and appealed for a truly global response to the pandemic. She called for multilateralism and a global leadership initiative that brings together not just governments, but other people of influence, insisting that it is the behavior of individuals that has to change.
Some of the bolder actions Mottley may be best remembered for in 2020, were those to remove the relic of colonialism from Barbados.
In September, through the nation's Governor General Sandra Mason, Mottley announced Barbados' plan to leave the commonwealth and become a republic by November 2021, replacing Queen Elizabeth II as the island's head of state. "It's time Barbados has its own Barbadian head of state," Mottley said.
Read More: Mia Mottley Underscores the Importance of Emancipation While Removing Lord Nelson Statue
She also recently ordered the removal of the 207-year statue of British Vice Admiral Lord Horatio Nelson from Trafalgar Square in Bridgetown. The bronze statue had been erected on March 22, 1813, opposite parliament buildings, where Mottley said the early legislators were able to pass legislation that ensured a slavery mentality in the country. She said it was now time to give real meaning to emancipation and remove the relics of slavery.
She told the audience at the ceremony to remove the statue the screen-saver on her cell phone is that of the late Jamaican reggae superstar, Bob Marley, who had urged Black people to emancipate themselves from mental slavery.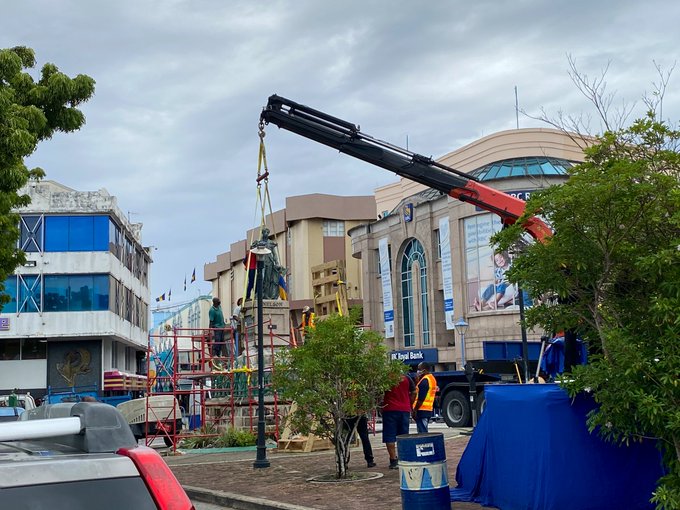 Mottley is the eighth person to hold the position of prime minister in Barbados. She has been a member of parliament for the constituency of Saint Michael North East since 1994.
As a child, her keen interest in politics came from her grandfather Ernest Deighton Mottley who was the first elected mayor of Bridgetown in 1959.
Following her legal training, Mottley officially entered Bajan politics in 1991, joining the BLP. Between 1991 and 1994, she was one of two opposition senators in the Barbados Senate where she was shadow minister of culture and community development.
Following the BLP's victory in the 1994 general election, she was appointed minister of education, youth affairs and culture by then Prime Minister Owen Arthur. At the age of 29, she became one of the youngest Barbadians to be assigned a ministerial portfolio.
In 2001, Mottley became the first appointed female attorney-general and minister of home affairs. She is also the youngest-ever Queen's Counsel in Barbados.
Watch: Keynote: Hon. Mia Mottley – Launch of the Report Debt Relief for a Green and Inclusive Recovery
In addition to being a member of the Privy Council of Barbados, she was the leader of the House and a member of the National Security Council and the Barbados Defense Board. Mottley is also credited with being the visionary behind the Education Sector Enhancement Program, popularly known as "Edutech," which aims to increase the number of young people contributing to the island's sustainable social and economic development. The revolutionary program involves the widespread use of information and communication technologies to assist in improving the quality of the teaching/learning process.
In the Youth Affairs Ministry, Mottley directed the establishment of the Youth Entrepreneurship Scheme and a National Youth Development Program. In the years following, Mottley served as Barbados' second female deputy prime minister and chairman of the Social Council of Barbados and the deputy chairman of Barbados' Economic Council, a position she held until 2008.
Read More: Mia Mottley Appointed to Co-chair of Health Global Leaders Group
Following the BLP's defeat in the 2008 election, Owen Arthur resigned as BLP leader, and Mottley was elected to replace him to become the first woman to lead the party, and also Barbados' first female opposition leader.
Since becoming prime minister, Mottley was instrumental in clearing a massive $7.5 billion debt Barbados had incurred, obtaining an IMF loan not possible for years prior to her leadership; and removing Barbados from the European Union's blacklist, thus opening Barbados for more international investments and revenue.
Two years later, Mottley's appointment as opposition leader was revoked following a vote of no-confidence by five of her parliamentary colleagues. Owen Arthur was re-elected as the BLP leader until after the 2013 general election, which the BLP lost. Mottley again replaced him as leader.
Prime Minister Mottley, who is unmarried, also holds portfolios of minister of finance, economic affairs and investment. In August 2020, she was appointed Development Committee chair for the World Bank and the International Monetary Fund (IMF), along with Mesdames Azucena Arbeleche, minister of economy and finance of Uruguay.