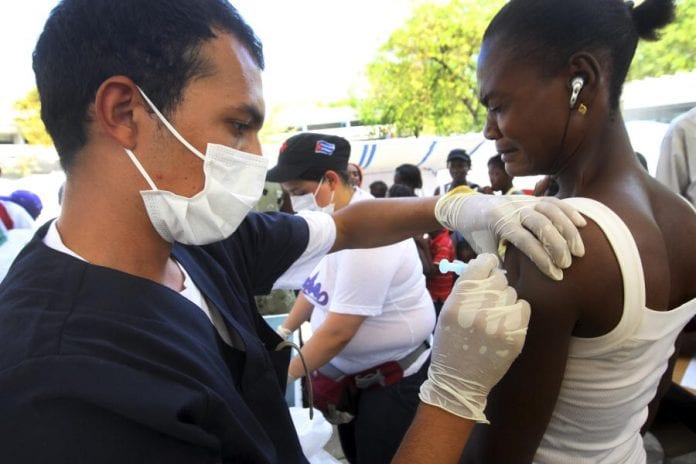 If the Cut Profits to the Cuban Regime Act, recently proposed by our local U.S. Senators Rick Scott and Marco Rubio, were to pass, it would be at odds with Caribbean countries such as Barbados, Jamaica and St. Lucia that benefit from Cuba's medical missions.
The bill would essentially cut off revenue from Cuba and punish all the countries that utilize these programs.
Our neighbors to the south—the Caribbean—seem to be on the right trajectory to overcoming the virus, through strong leadership, adhering to World Health Organization (WHO) guidelines and, many with help from Cuban medical personnel.
However, while we battle an out-of-control coronavirus crisis here in Florida, with a total of 350,047 cases and more than 5,000 deaths, the leadership in the state seems to be flailing and failing to tamp down the scourge.
The bill requires the State Department to publish the list of countries that contract the doctors through the Cuban government and to consider that as a factor in their ranking in the State Department's annual Trafficking in Persons report.
Scott and Rubio are supported by Texas Republican Senator Ted Cruz.
In defending the proposal Scott said, "Cuba is participating in the human trafficking of doctors, and now Cuba is using the coronavirus pandemic for profit at the expense of these hardworking physicians." Scott's also accused countries who accept hire medical personnel from Cuba of "aiding their human trafficking efforts."
Rubio, a second-generation Cuban American and a well-known opponent of the Cuban regime, accused them of "exploitative practice of using Cuban doctors for their so-called medical missions, which is a form of modern-day human trafficking."
However, some Caribbean countries that have long enjoyed bilateral relations with Cuba and have benefited from the Cuban medical missions and other programs, especially in the fight against COVID-19, are defending their positions and asserting the right as sovereign nations to do so.
Caribbean countries push back
Barbados recently joined the list of countries that are asserting their independence and are refusing to subscribe to decisions that could be detrimental to their country. Barbados says it does not plan to end the program, which allows Cuban nurses to help in the fight against the coronavirus on the island.
"Barbados is a sovereign country and we make decisions in the interest of the country just like other countries large and small. We have engaged the nurses from Cuba. Barbados had diplomatic relations with Cuba when other countries were trying to do the same…and we are not going to buckle under the pressure of any other nation," said Health Minister, Jeffrey Bostic.
The Cuban government, which has almost 30,000 healthcare workers contracted in more than 50 countries, including in several Caribbean countries, has dismissed the accusations and insists that the missions are examples of cooperation and solidarity.
At the time of the proposed bill, Antigua and Barbuda Prime Minister, Gaston Browne, urged Caribbean Community (CARICOM) countries to condemn the move, saying it was "extremely unfortunate" and that…Cuban nurses and doctors are a significant part of the health infrastructure of many Caribbean countries and if they were to force us to get rid of these Cuban professionals, then they will dismantle our health system."
He said his country would be pushing back on any such decision. "As far as we are concerned, we are not involved in any form of human trafficking and for USA officials to suggest that by virtue of us employing the services of Cuban professionals that is a form of forced labor and therefore human trafficking, that is not true, we do not accept it."
Additionally, the Organisation of Eastern Caribbean States had released a statement praising Cuba for its medical support and asserting that their involvement "has provided assurance to the general populations of the region's capacity to fight and manage COVID-19." Some 473 Cuban medical personnel are working alongside their Caribbean counterparts Antigua and Barbuda, Barbados, Dominica, Grenada, Jamaica, St. Kitts and Nevis, Saint Lucia, and St. Vincent and the Grenadines to help manage the spread of coronavirus.
"Cuba's support to the health sector in the Caribbean has a long and exemplary history that has benefitted numerous Caribbean citizens," the OAS said, adding that it was grateful for Cuba's "extensive global contributions…in spite of its material limitations and the economic hardships resulting from U.S.-imposed sanctions."
The organization also "repudiates the recent bill introduced by Republican Senator Rick Scott which classifies Cuba's humanitarian assistance as "human trafficking" and seeks to extend punitive measures against countries accepting this medical assistance."