New Lauderhill library opened
The new Lauderhill Central Park Library grand was recently opened. The new library reflects a collaboration of County and City partnerships in the arts, sports and learning. Featured at the opening was the unveiling of a mixed-medium mural, Glory and Defeat, designed by Broward-based artist Ruben Ubiera.
Ubiera describes the mural as a marriage between sports and libraries in that people who play sports usually don't find themselves in libraries and vice versa. The artwork represented for him, two ladies: Lady Glory and Lady Defeat, speaking to the un-spoken rule in sports where many times, someone wins and someone must lose.
Ubiera also intended the artwork to represent the City of Lauderhill's green areas, gold sunsets, and warmth of the city, as well as their history through newspaper clippings, with the goal of encouraging community pride.
"This is a daring selection by the Artist Selection Panel," said Broward Cultural Division's Public Art & Design Administrator Leslie Fordham. "They took a leap of faith in a conceptual design and supported it through research and questions, in order have the artist bring the artwork to life."
Fordham feels the artwork represents what is important about public art, in that Ubiera was able to improve the artwork through feedback from the community and the city's governing agencies, while he maintained his artistic integrity through organic origami, sporting figures and "even ballerinas," said Fordham.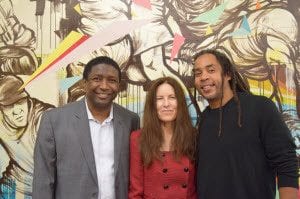 The grand opening of the library was attended by Broward County Commissioner Dale V.C. Holness; Mayor City of Lauderhill Richard Kaplan; Acting Director Broward County Libraries Laura Connors; past Director Broward County Libraries Sam Morrison; Parks and Recreation Division Director Dan West; Assistant Director Construction Management Division Jeff Thompson; Broward County Public Art & Design staff; Friends of the Library and the Library Advisory Board, library staff and members of the public..