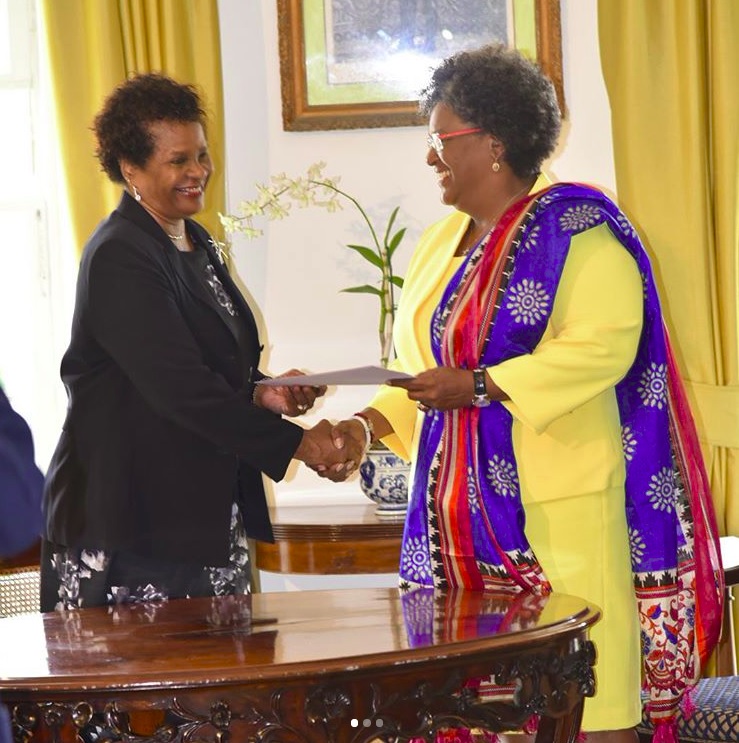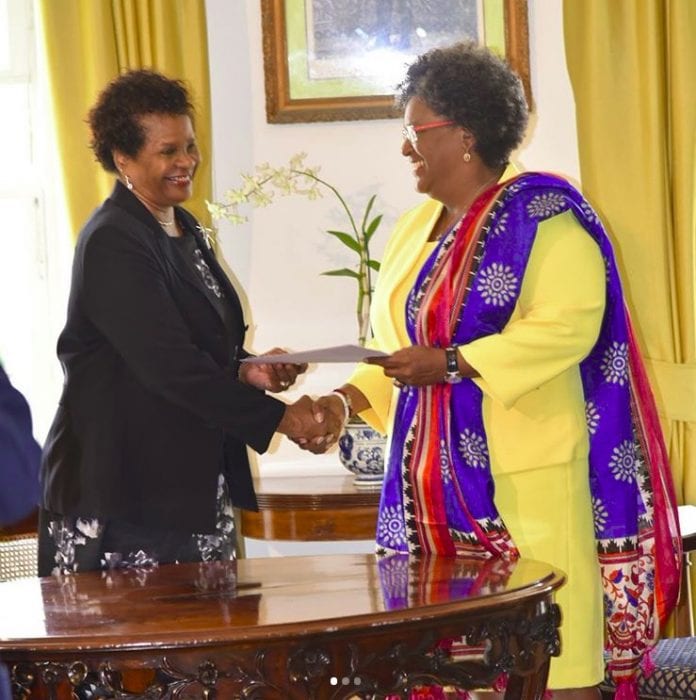 Less than 24 hours after she led her Barbados Labor Party (BLP) to victory in the May 24 general election, Mia Amor Mottley, 52, was sworn in as Barbados eighth prime minister on Friday, joining a handful of Caribbean women who have lead governments in their respective countries.
Mottley, who first entered local politics in 1991, when she lost the St. Michael North East constituency to Leroy Brathwaite, took the oath of office before Governor General Sandra Mason and in the presence of family, friends and party supporters.
Attorney Dale Marshall also took the oath of office as Attorney General.
DLP whitewash
Mottley, who between 1994 to 2008, held a succession of ministerial portfolios, led the BLP to a whitewash of the Democratic Labor Party (DLP), winning all 30 seats in the Parliament.
Mottley was the first female to be appointed attorney general and minister of home affairs in 2001 and is also the youngest ever Queen's Counsel in Barbados.
Party leader in 2008
Two years later, she served as the island's second female Deputy Prime Minister and following the BLP's defeat in the 2008 election and Owen Arthur's resignation as party leader, Mottley was chosen as BLP party leader on January 19, 2008. She also served as the first female Opposition Leader when she was sworn in on February, 7, 2008.
Mottley joins the late Dame Eugenia Charles of Dominica, Janet Jagan of Guyana, Jamaica's Portia Simpson Miller and Triniad and Tobago's Kamla Persad Bissessar as women who have led governments in their respective countries.
Following her party's resounding victory, Mottley said she wanted to thank Barbadians for doing "what is best for Barbados."
She is expected to name her Cabinet over the weekend.
Jamaican opposition congratulates new Barbados PM
President of Jamaica's opposition People's National Party, Dr. Peter Phillips, has congratulated Mia Mottley, leader of the opposition Barbados Labor Party (BLP) on "a historic election victory"  following Thursday's general election.
"Mottley's landslide victory signals the desire of the people of Barbados for change, renewed hope, the reinvigoration of CARICOM (Caribbean Community) and a strong collective Caribbean voice in the global community," said Phillips in his message.
"Mottley, who was guest speaker at the PNP's  annual conference last year, becomes Barbados' first female Prime Minister, joining the distinguished rank of Dame Eugenia Charles of Dominica, Kamla Persad Bissessar of Trinidad and Tobago and Portia Simpson Miller, former president of the People's National Party and Prime Minister of Jamaica, three other women who headed governments in Dominica, Trinidad and Tobago and Jamaica," said Phillips who noted that the BLP's return to power "marks a move towards people-centerd governance, which is always a welcomed development that benefits all."
"The PNP wishes the new government success as it takes on board the expectations of the people of Barbados and strives to improve the lives of the majority of its people," Phillips said.