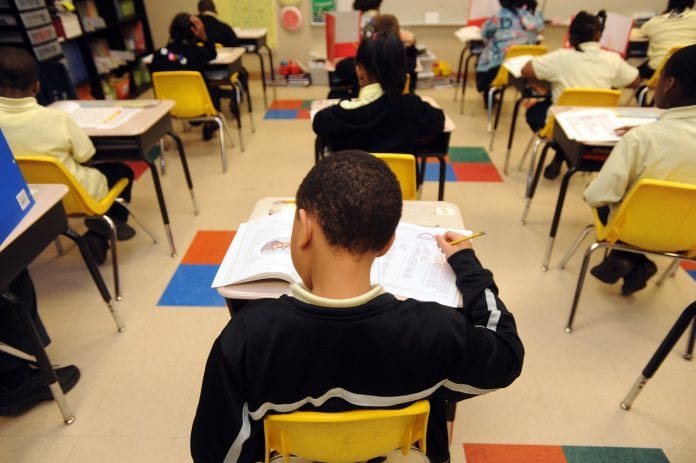 Broward high schools' graduation rates rise to highest level in six years
Earlier this week, the Florida Department of Education released graduation rates for the 2016/17 school year. Broward County Public Schools (BCPS) is proud to announce that the results show graduation rates for innovative District high schools reached the highest level in six years, at 93.8 percent. This marks an increase of nearly 2 percentage points since 2015/16. 
 Additional highlights are listed below.
 The overall graduation rate for BCPS, which includes innovative District high schools and charter schools, is 81 percent. This is the highest graduation rate for BCPS since Florida adopted the Federal Uniform Graduation Rate method in 2010/11.
31 innovative District high schools had a graduation rate of 90 percent or higher.

24 of 33 innovative District high schools improved or maintained their graduation rate from 2015/16. 

Black (75 percent), Hispanic (83 percent) and white (87.3 percent) students improved their graduation rates. The graduation rate gap between black students and white students also decreased by 3.2 percentage points.

Atlantic Technical High School, Broward Virtual School, College Academy @ Broward College and Lauderhill 6-12 achieved graduation rates of 100 percent. 

Coral Springs High School had the largest graduation rate increase in the District, increasing its graduation rate by 7.6 percentage points to 94.4 percent in 2016/17, compared to 86.8 percent in 2015/16. Coconut Creek High School and Piper High School also both increased their graduation rates by 5 percentage points or more compared to 2015/16.
 Runcie "extremely proud" of results
"We are extremely proud of these results, which highlight our commitment to ensuring our students complete their high school education and are prepared for college and careers," said Superintendent Robert W. Runcie. "We will continue to focus on meeting the individual needs of our students and providing them with the support and high-quality educational experiences to help them be successful in school and beyond."
Miami-Dade public schools' graduation rate continues to rise, sets new high
Miami-Dade County Public Schools' (M-DCPS) graduation rate rose once again to 80.7 percent for the 2016-2017 academic year.  This rate marks the highest graduation rate M-DCPS has achieved since the Florida Department of Education began tracking graduation statistics with modern methods in the late 1990's. The graduation rate rose despite the more rigorous Grade 10 Florida Standards Assessments English Language Arts component. 
 The District's graduation rate has increased by 22 percent from 58.7 percent in 2006-2007 to 80.7 percent in 2016-17, and if charter schools' data is excluded, the graduation rate is 84.2.  The District's graduation rate for ESE students exceeded those of the State by 4.3 percentage points, and the rate for economically disadvantaged students exceeded those of the State by two percentage points.
 Carvalho calls results remarkable
"This is remarkable news for our school district, and it is a testament to the work and dedication of the M-DCPS family," said Superintendent of Schools Alberto Carvalho. "Despite tougher standards, our students continue to shine. The 2016-2017 graduation rates for our school district are a direct result of the support of students' families, the visionary leadership of our School Board, and the instructional ingenuity of teachers and school leaders."
Result of several strategies 
The District's graduation rate continues to improve as a result of several strategies. A   comprehensive tracking tool monitors student progress through high school to ensure students meet established graduation requirements.  Student Services staff provides support to students as early as 9th grade and ensures they are completing requirements on time. Enrichment programs with a strong focus on literacy prepare students to meet State assessment graduation requirements.
 For the most up-to-date information, please download the Dadeschools mobile app on your iPhone or Android device.  Follow us on Twitter @mdcps and @miamisup and on Facebook at MiamiSchools and AlbertoCarvalho