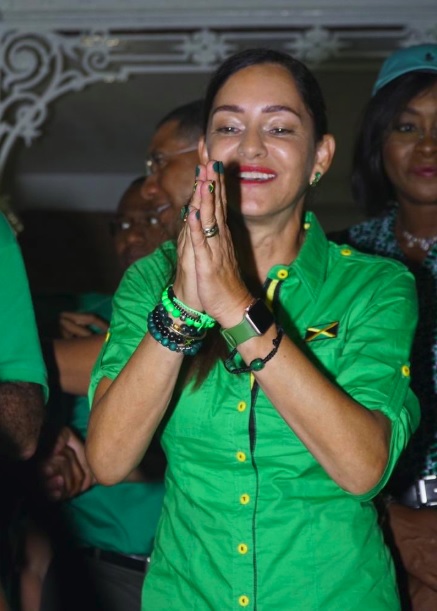 KINGSTON, Jamaica, –  By an extremely slim margin of 306 votes AnnMarie Vaz  representing the ruling Jamaica Labor Party (JLP) captured the seat in the constituency of Portland Eastern in a by-election on Thursday, ending the party's 30 year political drought in the constituency.
Vaz, the wife of government minister Daryl Vaz, the incumbent member of parliament for the adjoining Portland seat defeated the People's National Party's candidate Damion Crawford. Vaz secured 9,917 votes to Crawford's 9,611.
With this victory, Vaz will be the first female member of parliament for Portland Eastern..
The PNP had held the Portland Eastern seat since February 9, 1989.
In the last general election in 2016, that party had won the seat by more than 2,000 votes, receiving 8,606 votes to the JLP's 6,330.
PNP brass and supporters find it painful and ironic that Crawford secured more votes than in the 2016 elections, nut nonetheless lossed in his bid to keep the seat for the PNP
The Electoral Office of Jamaica (EOJ), says in this by-election there were 36,215 eligible voters in the five electoral divisions of Portland Eastern and the polls closed with a 53.5 per cent voter turnout.
Portland Eastern was left vacant following the murder of the PNP's Dr Lynvale Bloomfield on February 2.
PNP supporters are concerned about the future of the party with this loss being the third major loss since 2016, including the party's razor-edge loss to the JLP in the 2016 general election and in a by-election in St. Mary last year.