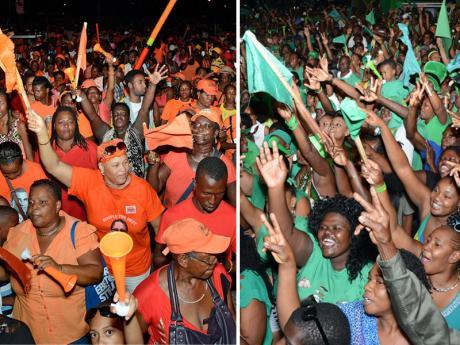 Jamaicans head to the polls on February 25
Jamaican voters are set to vote February 25, following the recent announcement from Prime Minister Portia Simpson Miller. The Opposition Jamaica Labor Party (JLP) led by Andrew Holness and the governing People's National Party (PNP) will contest 63 constituents, seeking to win at least 32 seats to form the next government.
The announcement came as a relief for Miami businessman Lynford Beckels, who is among the few Jamaican registered voters residing in South Florida.
"Speculation of an early election went on much too long, and was beginning to become counter- productive for the country," said Beckels. He remains keen on returning to Jamaica to vote, as "the election is going to be very close between the two parties, and my vote could really make a difference."
And though the Jamaican constitution doesn't allow the Diaspora to vote, that hasn't stopped many Jamaicans in South Florida from weighing in.
"I think Jamaica is at a very serious junction." said Jamaican University of Miami student, Staci Pennant. "The present government prevailed through difficult economic times, but there are signs of improvement. Should they be allowed to continue this work, or is it time for a change?"
Lake Worth teacher Rosemarie Stennett described herself as "an avid party activist" while living in Jamaica. "But since living in the U.S., I see the Jamaican situation more from a national [rather] than a party perspective. Jamaica's main problem is youth unemployment.  Jamaicans should reason carefully and elect the party with the best plan to solve this everlasting problem to ensure the youth get jobs."
Claude Russell of Miramar believes "voters in Jamaica are turned off by both political parties. Whichever party wins isn't really going to represent the majority of the people. This can't be good for the country."
The results of a recent poll conducted by pollster Don Anderson shows the PNP leading the JLP by 4.3 percent (27.5 to 24.2 percent), while 17.4 percent of those surveyed remain undecided. But nearly a quarter of the electorate, at 23.2 percent, said they do not plan to participate.
The high voter absences "make it difficult to give an educated forecast on the election's outcome," said Miami political analyst Mortimer Gray, who focuses on Caribbean politics. "The outcome of these election will rest on [issues driven] voters. And urban voters versus rural voters, and how they are influenced by their leaders' personalities. I predict the party leader with the strongest personal appeal to rural voters will win. Thus far, that leader is Simpson Miller.  For the JLP to win, Holness must buffer her charismatic-like appeal in three weeks."
But Coral Spring-based Jamaican political bloggers Richard Blackford of "The Artful Blogger" said he doesn't think the elections will be close "in terms of seats."
"The vote distribution will as usual favor the PNP, but I don't see it as being close."
Ideological issues will also not be important in this elections, argues Blackford. "That isn't the case and hasn't been in the last four or five election cycles. Were there deep ideological differences, it could perhaps make a difference. Not so this time."