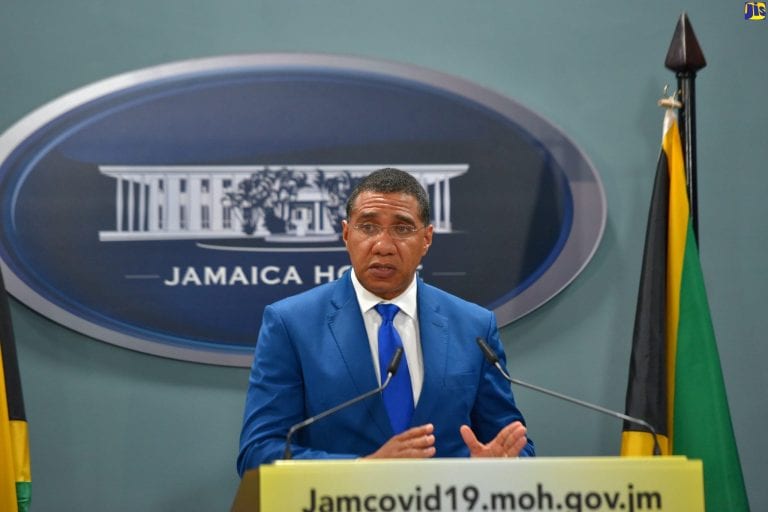 The Jamaica government has announced a series of new measures, including an all – island curfew, to help curb the spread of the coronavirus (COVID-19) after the country recorded 83 new cases of the virus over the last 24 hours, pushing the total to 1, 612.
Among those testing positive for the virus is the legendary retired world sprinter Usain Bolt with Prime Minister Andrew Holness telling reporters on Monday night that the police are investigating the circumstances surrounding a birthday party held in St Andrew for Bolt last weekend.
Videos posted on social media showed Bolt as well as patrons without masks and Holness said that the police will soon report on their investigation.
Bolt, who celebrated his 34th birthday with a lavish party last Friday, is said to have taken the test on the weekend as he prepared to travel overseas.
Health and Wellness Minister, Dr Christopher Tufton, who confirmed the positive result for Bolt, said the authorities have initiated contact tracing. Bolt has since gone into self-quarantine and is urging his friends who may have come into contact with him to do the test as well as go into quarantine.
Prime Minister Holness told the news conference that Jamaica has "now crossed the trip line" and that an all-island curfew from 9.00 pm. to 5.00 am (local time) daily, will go into effective from August 27 to September 30.
The government said that there would also be the suspension of entertainment events requiring permits and that those for which permits have been granted must be cancelled and the promoter refunded.
"It is easier said than done to have events that are compliant with protocols and in fact, when the contact tracing is done you are seeing that many persons, even high profile persons, who are affected, you could trace right back to entertainment," Holness said.
In addition, funerals will be prohibited island wide effective August 27 but burials will be allowed with up to 15 persons including the officiating minister.
Beginning Thursday, residents in some communities will be required to stay at home, even outside of curfew hours, with Prime Minister Holness saying that this will prevent people from being outside unless they have a legitimate reason.
"We are seeing a clustering of cases occurring within a number of communities in the Corporate Area. We have decided that we will take some additional measures for these communities. Effective Thursday, August 27, persons will be required to remain at home — which means staying in their yard space — outside of curfew hours.
"Even within the curfew hours, we will put in place an order which will give the police the authority to, if you are seen loitering in a public space, you could be required to return home," Holness said.
Within the last two weeks, the number of active cases on the island has more than doubled- moving from 213 on August 10 to 705 as of August 24.
Meanwhile, the main opposition People's National Party (PNP's) participants in Tuesday's political debate on social issues, Peter Bunting and Krystal Tomlinson, have pulled out of the national event.
PNP general secretary Julian Robinson says the two have withdrawn because they were exposed to persons who have either tested positive or suspected to be COVID positive. They have been replaced by Raymond Pryce and Lisa Hanna. The PNP team will also include Dr Dayton Campbell.
The ruling Jamaica Labour Party (JLP) will be represented in the first of the three national debates by Foreign Affairs Minister Kamina Johnson Smith, Health Minister Tufton and Floyd Green.
CMC