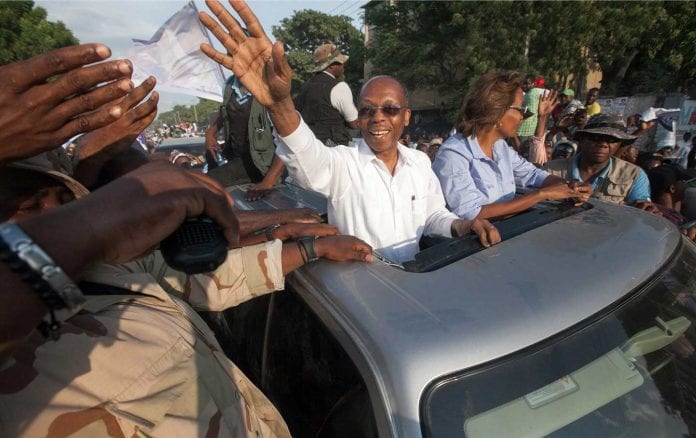 Former President, Aristide supports Narcisse for President
Haiti's former president, Jean-Bertrand Aristide, made a public appearance to support Maryse Narcisse, his party's candidate for the presidential election to be held on October 9 with the second round held in January of 2017.
The former priest said he and presidential candidate Maryse Narcisse were "bringing the strength of our dignity."
After Aristide's exile in South Africa, he urged supporters to back Famni Lavalas, his party's candidate at the time. During the public appearance, he waved from his car's sunroof, next while standing next to the candidate, to supporters around the motorcade.
Pierre Glatson Julien, a supporter of the former and presidential hopeful said "This is a very important moment."
During last year's election, the ruling party candidate, Jovenel Moise held first place with 32.76 percent of the votes in support, while Narcisse was holding fourth place with only 7.05 percent. With the appearance by Aristide, speculation has started, however, there has not been any confirmation from Narcisse that the ex-president would continue to be involved during her campaign.
With the ruling from an independent commission cancelling the vote claiming it to be marred by fraud, the government declared the votes invalid and the results thrown out. Nearly 6.2 million voters will be eligible to vote during the October 9 election, the first round of the presidential election, as well as a legislative vote.