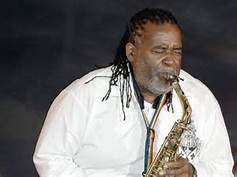 Dean Fraser recorded and toured the world for several years with Dennis Brown. Eighteen years after Brown's death, Fraser pays tribute to the singer on Melodies of D.E.B., an album to be released September 8 by Tad's International Record.
Instrumental renditions
The 60-year-old saxophonist does instrumental renditions of 15 of Brown's biggest hit songs including Sitting and Watching, Westbound Train, Should I and Cassandra.
There are also interpretations of No Man is an Island, and If I Follow my Heart and Wolf and Leopards.
First solo album since 2005
Melodies of D.E.B. is produced by Tad Dawkins Jnr. who also serves as co-executive producer with his father. It is Fraser's first solo album since 2005's Plays Reggae Songs of Praises, which was produced by Lloyd 'Joe Frasier' Campbell of South Florida fame.
In the 1990s, he recorded two albums saluting Bob Marley. Distributed by RAS Records, Dean Plays Bob volumes one and two sold strongly.
Early in his career, Fraser was a member of Lloyd Parks and We the People Band which was Brown's official backing unit.
They supported Brown at the 1980 Montreux Jazz Festival, considered one of his outstanding performances.
Dennis Brown is largely rated by fans as reggae's greatest singer. Dubbed the Crown Prince of Reggae, he died in July 1999 at age 42.
Melodies of D.E.B. tracks
Sitting and Watching
Have You Ever
Hold on To What You've Got
Cassandra
Your Love Got a Hold On Me
Funny Feeling
Should I
Money in My Pocket
Wolf and Leopards
If I Follow My Heart
How Could I Leave
Baby Don't Do It
No Man Is an Island
Ghetto Girl
West Bound Train.