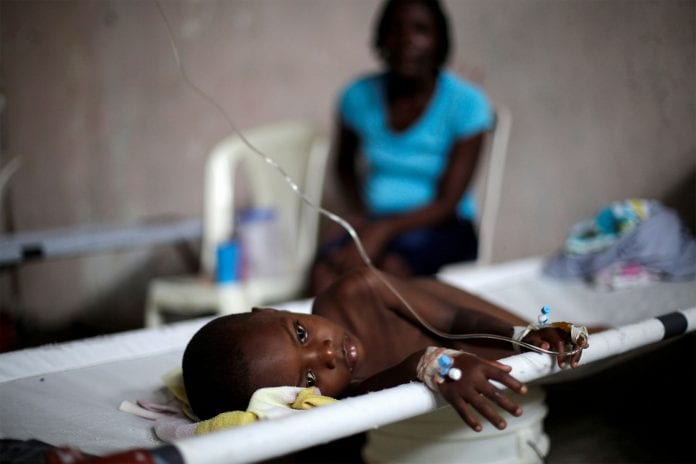 Cholera Victims Protest at Presidential Palace
Protests erupted on Monday when about 100 Haitian cholera victims gathered in front of the presidential palace demanding the government acquire damages from the United Nations (UN) after it was confirmed that their peacekeepers are to blame for the Cholera epidemic which has taken thousands of lives in the nation.
Mario Joseph, a lawyer defending some of the cholera victims said "We are here so that Jocelerme Privert finally takes the victims' side during the UN General Assembly next week."
After almost six years since the epidemic first spread to Haiti, the United Nations publicly recognized that it had a "moral responsibility" to help the victims and promised material aid for the nation. "The United Nations is finally recognizing it brought cholera here, so it's time for the Haitian authorities to say something," Joseph said.
UN Secretary-General Ban Ki-moon has brought the plan of a six-month renewal of MINUSTAH, the United Nations Stabilization Mission in Haiti that has been in operation since 2004.
Many Haitians are speaking and accusing the UN and its peacekeepers of an international plot.
"Whenever the time comes to decide on whether to renew the mission, there is more insecurity in the city. The UN peacekeepers favor this insecurity in order to justify their presence and keep their jobs," said 23-year-old Martine Febert.
The number of deaths caused by the epidemic reaches nearly 10,000 people in Haiti. The number continue to climb with about 500 more cases of the disease being confirmed each week.
Epidemiologists conducted a study tracing the specific strain of cholera to a U.N. base which concluded that there was no other plausible source of the disease. They reported that the first victims of the outbreak lived near a base which housed 454 United Nations workers from Nepal where a cholera outbreak was and waste from that UN base in Haiti, often leaked into the river.
Cholera, can be transmitted through contaminated drinking water and causes acute diarrhea, nausea and vomiting.