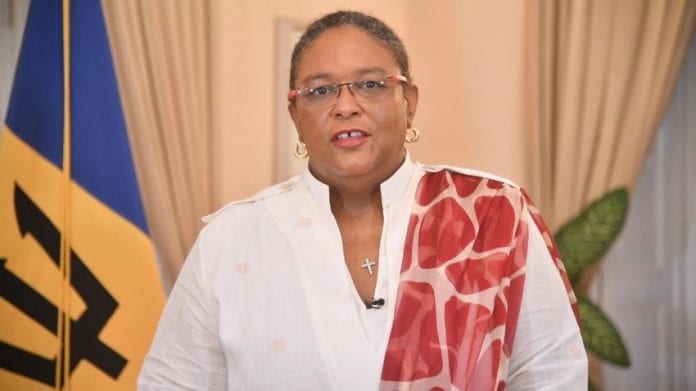 Barbados is now battling a massive COVID-19 spike caused by a bus crawl party held over the December holidays.
The island went from having 356 cases (48 actives) on Christmas Day to over 500 cases as of January 2, 2020.
The Government of Barbados imposed a 9:00 p.m. (local time) until 5:00 a.m. daily, starting Saturday until January 14. The curfew was adjusted from midnight to 5 AM.
In making the announcement of the amendment Prime Minister Mia Mottley said: "Certainly for the next seven days, but possibly 14, that there will have to be greater discipline on the part of Barbadians. I've therefore advised the Attorney General to draft a further directive that will allow us to institute a curfew from nine o'clock at night.
"From tomorrow, the second of January, for the next seven nights, until the ninth of January, but with the provision that we may extend it until the 14th or further, if necessary," the Prime Minister stated.
In addition, she said that although January 4 and 5 would be bank holidays, certain businesses would be allowed to operate.
"When we announced also that Monday and Tuesday will be closed to businesses, other than supermarkets and gas stations, will obviously need to facilitate people's access to food or medicine or other urgent things as they do on a bank holiday with those measures in place."
Also with immediate effect, no permission will be granted for social gatherings. 
This, the Prime Minister noted, is due to the number of positive cases arising out of the bus crawl held on Boxing Day.
She added that it is being implemented to reduce the number of persons moving around, so that contact tracing could be effectively and efficiently conducted, and to reduce further transmission.
"We were allowing official gatherings of persons up to 50 or more, but now that we've seen the increased numbers of positives, I've equally advised the Attorney General that there are to be no banquets, social gatherings, fetes, limes of any number, whatsoever."
According to CMC, Mottley also addressed those who operate bars, restaurants, shops, and persons who go to the beach.
She pointed out that Barbados was not yet at that stage where she needed to "press brakes" in reference to their operation, but stressed: "If in the next 72 to 96 hours, I do not see an improvement in people's behaviour, then I will similarly be taking action there."
Meanwhile – A super spreader event on Boxing Day has led to an additional 161 confirmed positive cases of COVID-19 in Barbados.
Minister of Health Lieutenant Colonel Jeffrey Bostic, disclosed during Friday night's press conference that a bus crawl attended primarily by prison officers of Her Majesty's Prison (HMP) Dodds and some members of the Barbados Defence Force(BDF) on Saturday, December 26, is being linked to the spike in cases.
Four members of the BDF, along with 17 from the Prison Service, all attended the bus crawl. A bus crawl is a party that takes place on a bus, which usually stops at bars or other points of interest along the way.
Bostic revealed that following aggressive contact tracing and testing which began on Thursday evening, there were currently 100 cases under active investigation.
"This bus crawl is now considered as a super spreader event. The Ministry of Health and Wellness' intent is to test or swab all prison officers tonight, and the remainder of the prison population by tomorrow."
Bostic stated, adding that the undertaking was possibly the most challenging assignment of his life, including the 26 years he spent as a military officer in the BDF. However, he pointed out that local public health officials have what it takes to wrestle the situation to the ground.
Following Bostic's statement, the Prime Minister indicated during her address that the number of prison officers who tested positive for COVID-19 was likely to increase.