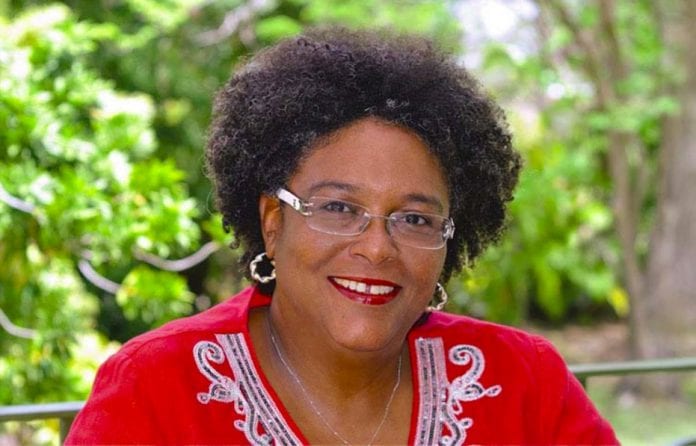 Leader of the main opposition Barbados Labour Party (BLP), Mia Mottley says her party is ready for general elections. She has called on Prime Minister Fruendel Stuart to announce the date.
In a strongly worded letter released to the media late Sunday, Mottley said the country is "crumbling and grinding to a halt as a result of your tardiness, indecisiveness and inertia. While you refuse to set a date for elections, every artery in the country's body is malfunctioning and many of our people are suffering as a consequence."
BLP is ready for elections
The opposition leader noted that although the constitution permits the Prime Minister to remain in office for 90 days beyond the five year anniversary of the first sitting of parliament, the BLP is prepared for the polls.
"As leader of the BLP, I have acknowledged and respected your right, in law and only in law, to extend the setting of the date for elections…we (the BLP) have been (ready) for several months now as you would expect a serious and credible institution of 80 years to be."
According to Mottley – the BLP has in place the full slate of 30 candidates and this was finalized and communicated to the public over one year ago.
Mottley outlined several issues affecting the country including "sick buildings; mounting garbage and the Supreme Court shut down."
Stop the bleeding- call the elections
"Prime Minister, …. I am asking you, in the name of all that is good and righteous, call the election and stop the bleeding. At this stage, what matters is not whether you or I emerge victorious, but that we stop the slide. That we breathe new life and hope into Barbados and Barbadians," she appealed in the letter.
The opposition leader said the average citizen "can make no sense of this inordinate delay."
The Prime Minister recently defended his decision not to announce the date for a general election when his administration allowed Parliament to be dissolved automatically on March 6.
In the last general election of 2013, the ruling Democratic Labour Party (DLP), won 16 of the 30 seats with the remainder going to the BLP.