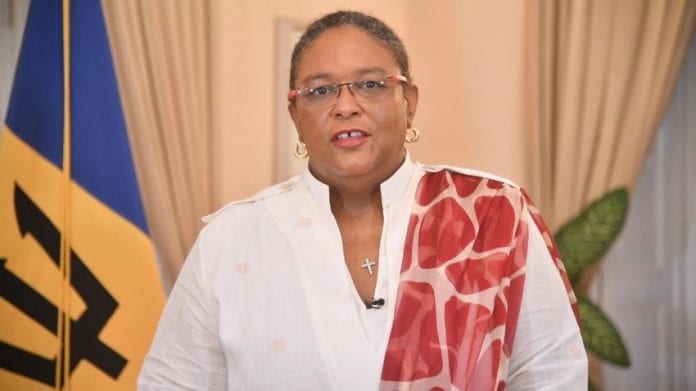 Barbados is observing its 54th anniversary of political independence from Britain on Monday amid a global coronavirus (COVID-19) pandemic that has severely affected the island's socio-economic development in recent months.
Prime Minister Mia Mottley in a nationwide radio and television address from National Hero's Square in the heart of the capital, said despite the pandemic, Barbadians still had much to celebrate even as she acknowledged 'we are not going to get there overnight" the vision for the island in a changing global environment.
But she said, like all previous heads of government, her administration intends on transforming the lives of nationals and that her administration has been and will continue to put in place the necessary policies to achieve such a goal.
"Our children, who have now the recipient of leadership battles every independence, we would have wanted to be here this morning, but it was not practical or advisable and hence I salute them too for their leadership at all stages in our school system as we conferred the leadership badges on them on Friday…
"And for the most obvious group of persons for which this wonderful and modest Square in size could not be sufficient, those who are literally our front line workers, and I can't use the past tense, because the battle is still very much on.
"Our Parliament will have laid before it a special piece of legislation to confer the Barbados Humanitarian Medal for all of our frontline workers in this country regardless of where they fought," Mottley said, adding that the government will also seek to amend the National Heroes Act in order to be able to ensure that the island can confirm more than one Gold Medal of Achievement for extraordinary service and causes that literally has protected Barbados over the course of the previous year.
"When we pass that legislation it was always contemplated that it would be conferred on one but we must now recognise that this truly has taken a village not simply to build the nation but to also protect the nation," Mottley said, adding that she was looking forward to a date in January "when we shall bring from the doctors, the nurses, the lab assistants, the lab technologists, the supermarket workers, the port officers, the Customs…the list too long to mention, but which we all know that have allowed all of us now to stand before this country today, comfortable that our future is still secure against the background of those who stood and protected us in this moment of one of our gravest challenges since becoming an independent nation".
Last month, Barbados removed the statue of British Admiral Lord Horatio Nelson from the Square in the capital, two months after announcing plans to replace Britain's Queen Elizabeth as its head of state and move on from its colonial past.
The bronze statue was unveiled in 1813 to commemorate Nelson and the British Royal Navy's victory over the French and Spanish in the Battle of Trafalgar in 1805.
In her address, Prime Minister Mottley said she wondered what would Nelson have been thinking as the island celebrates its 54th anniversary of independence, noting that he was a "man who did nothing for us but to ensure that our forefathers were enslaved.
"Barbados did not choose to dump Nelson in the waters we chose to treat to him in a dignified way…because that is who we are, in the same way when I spoke just now in the adopt a family programme or the other charitable donations than to lift up our people.
'We did not ask anyone to stand up in lines to receive it, but we found ways through the issuance of credit cards and transfers to account so that no one would know when they went to that supermarket and the cashier who was the recipient of charity and who had earned their money to pay for their groceries because that is also who we are".
Mottley told Barbadians that they should use the occasion of the independence celebrations to reflect on the journey so far, adding "the journey happens because we stay the course".
She recalled that on January 2 this year, "I asked this nation to join with us to allow us to set a mission that we could be world-class within seven years.
"World-class meaning not that there are flashes of brilliance because we already have that, but world-class meaning that there is a consistency in all that we so and a reflection of excellence in all that we do such that we may be considered top of class amongst any class that we are pout globally.
"And in doing that we recognise that the journey is still long and I ask Bajans today to note that one of the reasons we introduced this address in our independence celebrations is to give ourselves a national charge every year," Mottley said.
Meanwhile, the Caribbean Community (CARICOM) has extended congratulations to Barbados with CARICOM Secretary-general, Irwin LaRocque noting that the anniversary finds the country in the midst of a testing period which has been faced with discipline, resolve, solidarity and vision.
He said these characteristics have served the Government and People of Barbados extremely well over the years and are reflected in the anniversary's theme "Standing Together, Renewing Hope".
CMC